Forgot PLDT admin and adminpldt password? Can't access PLDT home Fibr anymore? Yes, you can just reset but it's not practical. It's a bit of a hassle to start setting up the PLDT router again. From changing WiFi password again, SSID, and admin password. It's a waste of time and effort.
How are you going to recover PLDT admin password? The good news is you are in the right place at the right time. I will teach you on how to recover your forgotten PLDT admin and adminpldt password using TelNet. No hard reset or soft reset needed! Let's do it!
Things to remember before we access PLDT Fibr using Telnet
I need you to read the, How to enable TelNet on Windows 7, 8, 8.1 and 10. To equip you of the best armament as we go on. You will learn from that post on how to enable Telnet on Windows OS, which is an essential part of this guide and the danger of using Telnet.
Tips 💡 These are the things that we should do to recover our forgotten PLDT Home Fibr admin and adminpldt passwords.
Access PLDT router with 192.168.1.1/fh URL
Latest Fibr username and passwords
Enable Telnet switch and Web admin switch
Open an elevated command prompt
Another login credentials
Telnet commands
Change directory command
Telnet user command
Forgot adminpldt password?
Note⚠️: This tutorial is intended for PLDT subscribers only. If you are not one of them, please have some respect for yourself this guide is not for you. Thank you!
In this guide, you will learn the step by step method on how to recover forgotten PLDT Home Fibr adminpldt password. Please follow the guide carefully.
① As I have mentioned a while ago, please enable Telnet on your Windows PC.
② Let's type the I.P. address of our gateway or modem/router. It's 192.168.1.1/fh or https://192.168.1.1/login.html.
③ If you see a privacy or not secure error, refer to this, PLDT Fibr Privacy error solution.
④ Login using the following credentials: PLDT superadmin usernames and passwords.
⑤ debug switch , enable both ➔ Telnet switch and Web admin switch ➔ don't forget to click apply respectively.
⑥ Press ➔ Windows logo + R ➔ Type "cmd" ➔ Press Ctrl+Shift+Enter to open elevated command prompt or run it as administrator. How will you determine the difference between elevated and unelevated CMD? I got that covered here: elevated and not elevated command prompt.
⑦ In your CMD ➔ type telnet 192.168.1.1 then hit ➔ enter. You will then see a login prompt.


⑧ Input gepon as username and password. Don't foget to hit enter after each command.

⑨ Then type ➔ enable and the password is gepon.

⑩ Now, let's change the directory to web by typing ➔ cd web .

⑪ This is it! The command that will reveal our PLDT home Fibr gateway's full admin password. Are you ready? Let's type ➔ get web admin username adminpldt and ↩ | enter .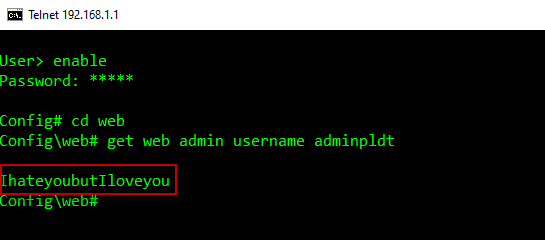 Forgot PLDT admin password?
⑫ To recover your basic admin password, input ➔ get web user username admin and ↩ | enter .
💡Tips: If you encounter "unknown command error" type ➔ ddd➔ Enter↩. But this may not work on PLDT HG model with software versions RP2613 and RP2602.
What do you think about my PLDT gateway's password? Now, that you know your router's password, accessing your modem/router isn't hard anymore. You can follow these guides: 8 easy steps: How to access PLDT Fibr ONU Router and How to Access PLDT Fibr Router RP2631 version.
When you are done accessing and fine-tuning your PLDT Fibr's settings, I would recommend you to disable Telnet on Windows, and on your router's debug switch. Let's be safe than sorry.