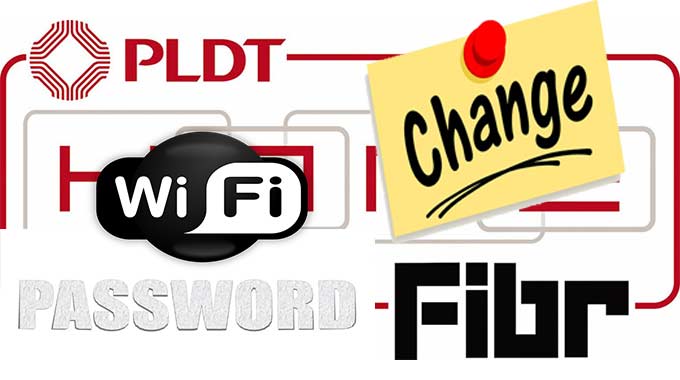 Why change your PLDT Home Fibr WiFi name and password? As I have mentioned in how to Change the PLDT Home DSL WiFi password. The default WiFi username and password are not safe.
Anyone who is a tech geek, not necessarily a programmer, can intrude your PLDT Fibr WiFi password. Some black hat hackers were able to found weaknesses on PLDT Fibr's WiFi password. By just turning on your phone's WiFi, it will detect the PLDT Home Fibr's default SSID or WiFi name.
What Happens When you don't Change your PLDT Fibr WiFi Password
Your PLDT Fibr WiFi Password might be compromised using the Hex Code/Mac Table technique
When that happens, the hacker will only need to get the last five digits of your WiFi name. Then convert it using the Hex Code/Mac Table. That's it, and your neighbors can now access your WiFi for Free by adding the default "PLDTWIFI + the converted five (5) last digits".
The good thing about PLDT Home Fibr is that PLDT WiFi hacker apps will not work on it. And changing your PLDT Home Fibr WiFi name and password will keep the hacker at bay. Which what we are going to do.
Rename PLDT Home Fibr WiFi name/SSID
To change your PLDT Home Fibr SSID and password, you need to access your PLDT Fibr Modem/Router. For that, you need to open a browser (Chrome, Firefox &, etc.).
1 In your browser type, the PLDT Fibr's I.P. address or URL, which is 192.168.1.1 by default. Don's forget to press "Enter."
2
Log in using your
PLDT default admin username and password
(admin and 1234)
. If you are having trouble logging in, you may check the
newly updated PLDT Default Username and password
and follow the instructions in
How to Access PLDT Home Fibr admin
.

3 Once you are logged in, you will see that there are two (2) WiFi connections or SSID's. Let's change the first SSID, by going to "advance" -> "SSID Name," then type your desired WiFi name.
How to Change PLDT Home Fibr WiFi Password
4 In the "Passphrase" box, just below the SSID Name, input your desired PLDT Fibr WiFi password and click apply for the change to take effect.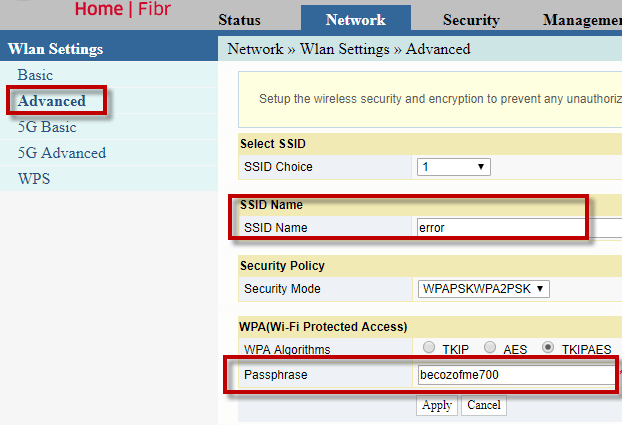 PLDT Home Fibr 5G SSID and Password
Now, let's move on to the 5G Advanced tab and do the same thing as what you did on the previous tab.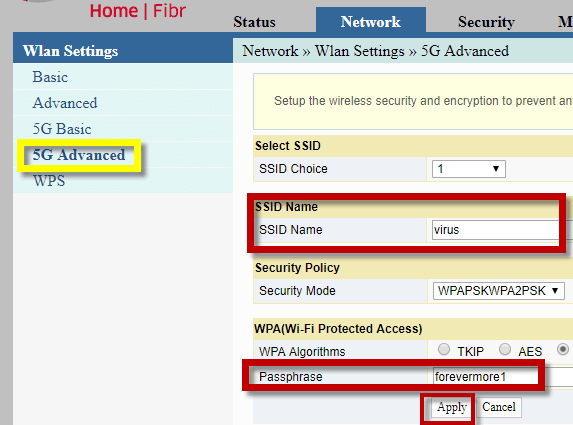 Please take note that you need to change the two (2) SSID's and Passwords of your PLDT Fibr Wireless router to protect your entire WiFi connection against potential hackers.
Now, I believe that you successfully changed your two PLDT Fibr WiFi names and password. It's about time to celebrate because your PLDT Fibr Wireless Internet connection is now safer.
Do you have any idea how to Change the PLDT Home Fibr password and username? Please feel free to leave a comment below.