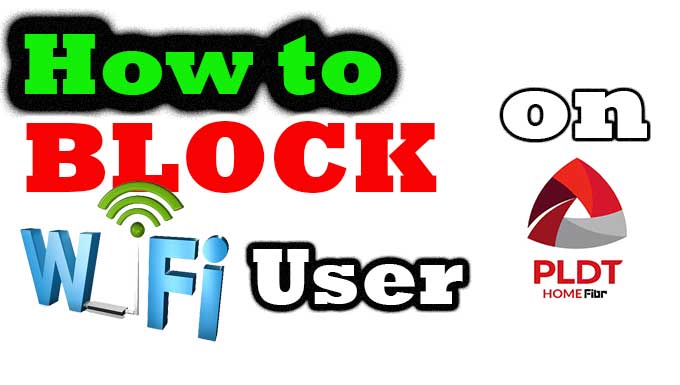 You are asking yourself, "What should I do to block unknown WiFi users?" You keep on changing your PLDT Home Fibr WiFi password. But why still there were a lot of unknown devices connecting your WiFi?
Are you willing to do the work to protect your PLDT home Fibr WiFi? In this tutorial, you will learn how to block WiFi users straight from the PLDT Home Fibr router.
However, to do it, you need to access the adminpldt account of your router. Because there is no way, you can configure the required settings using the basic admin due to its limited features.
Don't have access yet? Here are some of the guide that may help you get the full access of your PLDT router:
Three (3) ways to block WiFi user in PLDT Home Fibr
1. Hide WiFi/SSID
This method is not an excellent way to Block WiFi users in PLDT Fibr because technically, it does nothing but just hiding the SSID network. For more information about this method, see this post: How to Hide WiFi or SSID in the PLDT Home Fibr router.
2. PLDT Home Fibr MAC Filtering
In this method, we will block or filter the MAC address of the device and prevent it from connecting to the internet. Technically, the device can connect to the WiFi but not on the internet. How?
If the person who owned the device knew your WiFi password, he can connect to it and use your internet. But if you filter his/her device's MAC address, he/she can still connect to the WiFi but cannot browse the net.
So, to avoid blocking your own and your family member's devices, make sure to know all of your device's MAC addresses, make a list. Follow this guide: How to get or find your computer and phone's MAC address?
You may also check your PLDT router's WiFi list and DHCP List, as shown in the image below.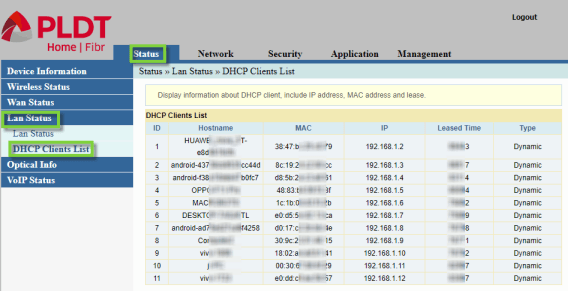 I presumed that you already logged in as an administrator in your Fibr router. If not, please read the 4th paragraph above, or else you can't continue below.
① Inside PLDT Fibr router, go to ➔ Security, and MAC Filtering.
② Select the ➔ Enable radio button ➔ Black List then ➔ Apply.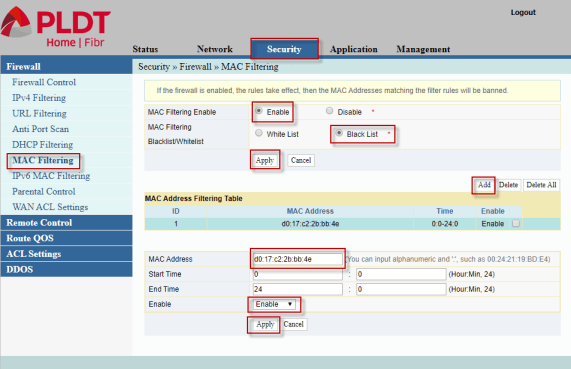 ③ Next click the ➔ Add button, input the ➔ MAC address that you want to block. Select ➔ Enable and ➔click Apply.
Difference between MAC Filtering Black List and White List
MAC-Filtering-Black-List will block the MAC Address in the MAC Address Filtering Table. On the other hand, the White List will block all MAC addresses except the listed MAC addresses in the Filtering Table.
To White-List-MAC-Address follow the same procedure above except that instead of Black List, select the White List.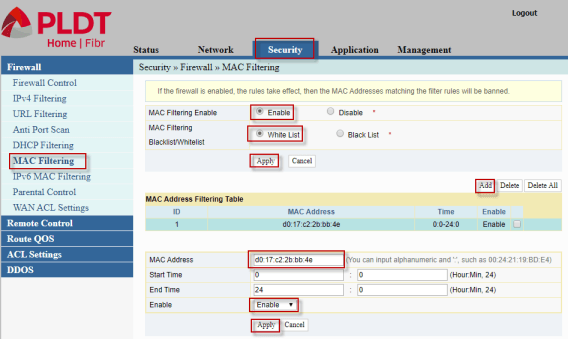 My recommendation is to use the White List because there are a lot of applications that can change the device's MAC address. If that happens, they can bypass the MAC Filtering.
Aside from that, blocking the MAC address is time-consuming. Especially when you are dealing with a lot of MAC addresses.
3. Block WiFi user in PLDT Fibr with DHCP Filtering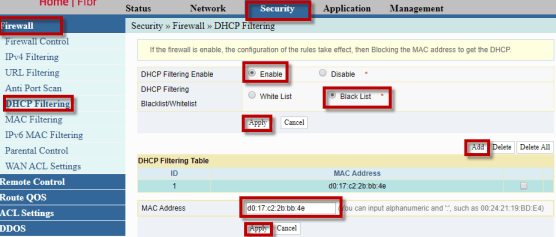 ① Go to Security, Firewall, and DHCP Filtering.
② Select the Enable radio button in DHCP Filtering Enable, Black List, and Apply.
③ Then click the Add, input the MAC Address that you want to block via DHCP Filtering and click Apply.
Difference between DHCP Filtering and MAC Filtering
DHCP Filtering allows or stops the device from obtaining an IP address while MAC Filtering blocks or allows MAC address. As we all know, MAC and IP addresses are needed to connect to a network or on the internet.