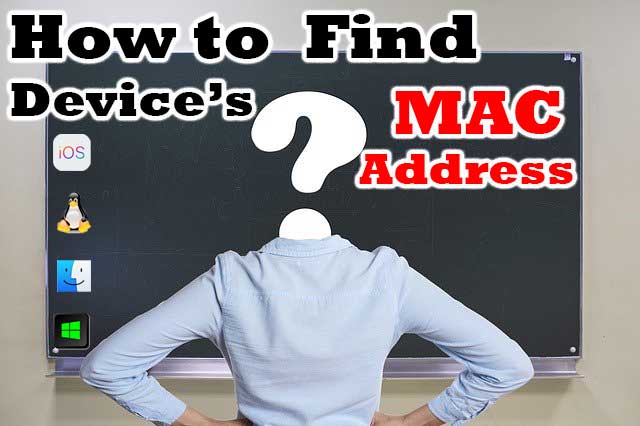 MAC Address is also known as the Media Access Control Address. It is the Networking Hardware of your device, and it looks like this  d0:13:c1:2a:bc:4p . For more info: click here
Each device in your network has its own unique MAC address. But how are you going to find your Computer, smartphone, and tablet's Mac address? Well, in this guide, we will learn all of those. Shall we start?
Find Mac Address in Windows 7,8.1 and 10
① In your keyboard, press the ➔ Windows key+R to show the Run Command box. Then type ➔ cmd and hit ↩Enter.
② A command prompt box appears. Type the command, ➔ ipconfig/all and hit ↩Enter.
③ If you are using a LAN cable, you may look for the Ethernet adapter the  Physical Address  is your Mac address. For Wireless connections like Laptops, you may see a Wireless adapter. But what is essential is always look for the  Physical Address . As you noticed, even my Virtual machine has its own Mac address.
Find Mac Address on Android Device
Two (2) ways to get the Mac Address of your Android phone
① In your Android phone, tap the ➔ Settings ➔ WiFi ➔ Action bar (three dots), and ➔ Advance. Scroll down and look for the MAC address.
② Go to ➔ Settings ➔ About Device/About or About Phone, and ➔ Status. Scroll down look for the WiFi MAC address.
iOS
Go to ➔ Settings ➔ General, and ➔ About. Scroll to see your iPhone's MAC address or WLAN address.
Mac OS
Click the ➔ Apple icon ➔ System Preferences ➔ Network, and ➔ Advanced. In the ➔ Network box, choose ➔ WiFi then scroll down for WLAN Address or Airport address.
Linux
Open a ➔ terminal ➔ input the command ➔ifconfig. That's it! Look for your MAC Address.
Now, you've learned how to find your device MAC address on almost all Operating System Platforms. In my next post, you will acquire another knowledge about blocking the MAC Address. If you have questions, feel free to speak your mind in the comment section.