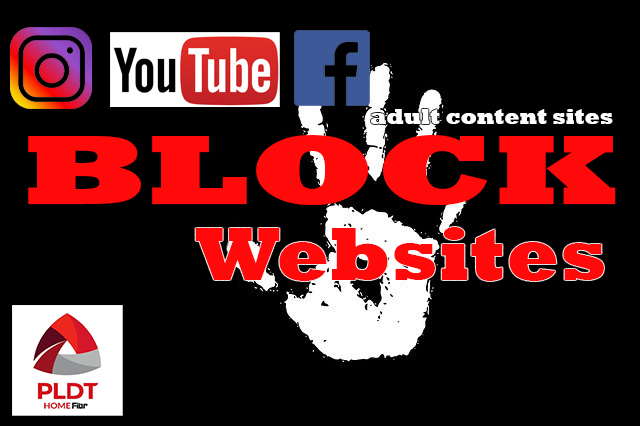 In this tutorial, I will be guiding you on how Block websites in PLDT Fibr. Why should you block certain websites? We may have different reasons, depending on our situations. A work-from-home Mom may want to block Facebook, YouTube, and Instagram to get rid of its notifications that may distract her work productivity.
A computer shop owner wants to block video streaming websites to stabilize game ping. A School administrator blocks adult content sites and social media sites to help students focus on their class. And the lists goes on and on.
To Block websites in PLDT Fibr
You need to access PLDT Home Fibr adminpldt. Yes, we need the advance settings to block websites in the PLDT Home Fibr router. The basic admin doesn't allow us to do so because it has limited features. As you can see in the image below.
Nevertheless, I already made a few tutorials on how to access the advance settings according to your PLDT router's firmware version. I need you to access it first, or else we can't continue.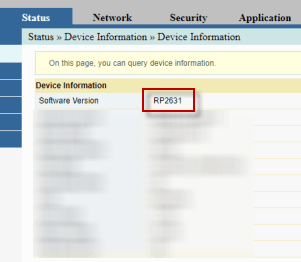 (2) Two ways to block websites in Fibr
Enable-Black List
I would presume that you already logged in as an administrator; if not, you can't follow this through. Okay, let's get started.
1
Inside your PLDT Fibr router, click the
 Security tab 
and
 URL Filtering 
.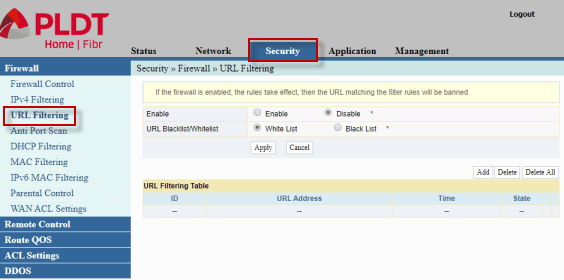 2
Now, select the
 Enable 
radio button,
 Black List, 
and click
 Apply 
.
3
Then click that
 Add 
button, in the
 URL Filtering Address 
, input the URL or website that you want to block. Make sure that the
 Start Time 
is zero, you can change the
 End Time 
to zero as well, but it's okay at Twenty four (24). It will still work.
4
Click the drop-down box and select
 Enable 
and click
 Apply 
. That's it!
Important note: Wait for about three to five minutes for URL Filtering to take effect. You can also clear your browser cache and history to get faster result.
Enable – White List
1
We will be doing the same process here except that instead of Black List, we choose the White List.
Which is better White List or Black List?
The Black List will block the website you input in the URL Address. The White List will prevent all sites from loading except the one you input in the URL address.
It seems that the Black List is helpful if you only want to block fewer websites because using this method on hundreds of sites is not ideal. On the other hand, the White List will let you select a handful of websites to be allowed, and the rest are blocked.
My recommendation
As of now, I will recommend the Black List. Why? The PLDT URL White List is a bit buggy as of this writing. It slows down the internet, and the White Listed sites take forever to load.
Please take note that this will not work on Smartphone Apps. Even if you block the YouTube URL, the YouTube app will still work.