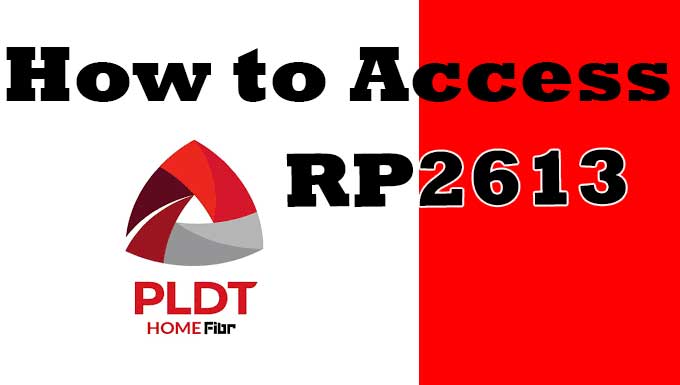 Today we are going to access the RP2613 PLDT Fibr router. It is another model, software version and color. Please be informed that PLDT also has a White version of 2613. This guide is only for the black one (AN5506-04-F 2613).
We don't have information yet about the white modem. But don't worry in the event that we have the new credentials we will keep you posted. If not, we will find a new way to help you.
Access RP2613 PLDT Fibr
Okay, let's focus on this one first. Are you ready? Let's get started.
1
In your computer or smartphone,
 open a browser (Google chrome, Mozilla firefox, Opera, Safari and so on). 
2
In the browser's address bar,
 type 192.168.1.1/fh 
and,
 hit enter 
. You will see that the URL has changed to 192.168.1.1/login.asp. Nevermind that just to proceed to the next step.
3
In the login box
  copy and paste the RP2613 credentials 
accordingly. Then
 click the login button 
.
Username:

 admin1234 

[Password:

 admin1234 
4
From the
 Device Management 
, select
 Debug switch 
, look for the
 Web Admin Switch 
then select the
 enable radio button 
and
 click apply 
.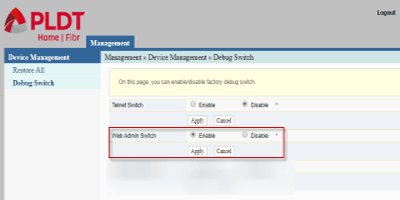 5
 Log out 
from the
 Superadmin Device Management 
.
6
Re-type the IP address or
 URL 192.168.1.1/fh 
you will be redirected to 192.168.1.1/login.asp. Now
 login using the credentials below 
:
username:

 adminpldt 

password:

 6GFJdY4aAuUKJjdtSn7dC2x 
6
That's it! You should be able to login now.
I can't log in
For those who weren't able to log in make sure to re-type the URL or else the password will not work.
I did that, but still, it doesn't work! Okay, if it says username or password error, there is a big possibility that your router is not using the Latest PLDT admin default username and password | 2021. Please use your own or old password.
If you are not the one who changed the password kindly ask your family member who also access the router.