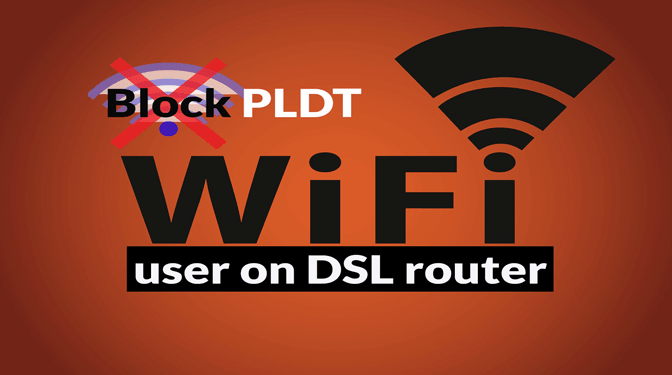 Block WiFi users on PLDT home DSL router
How to block WiFI user on home DSL? Is your neighbor using your PLDT WiFi for free without your consent? Well, that is probably your reason why you are here, reading this post. So, let us block WiFi users via home DSL router.
Almost all people love freebies but your WiFi is not free, of course. You paid for it for a monthly subscription of 1,300.00 up to 3,000.00 or more depending on your PLDT DSL internet plan or PLDT Fibr unlimited plan. Then your shameless neighbor will just use it for free? Unfair, right?
How to block WiFi users in DSL router?
There are a lot of ways to secure your PLDT WiFi internet connection but in this post, I will be focusing on blocking WiFi users via home DSL router's access control list. So, let's get started.
Let us first access your PLDT DSL router by typing 192.168.1.1 in your web browser and type the username and password you set or get it here PLDT default passwords and usernames. Now, I presumed that you are now  inside your PLDT DSL router.
1. Deny Listed
If you are using the "admin" username, you may navigate to "WLAN" and "Access control list". On the other hand, if you are using the "adminpldt" you need to go to "setup" and "Access control list".
Now, you may set your "Wireless Access Control Mode" to "deny listed". What is this all about? It will enable the MAC address box and you can now paste the MAC address that you want to block from using your WiFi. Once you've done that, any mac address/es that is on the list will never access your PLDT WiFi. You just block WiFi users from using your PLDT DSL WiFi.
NOTE: Remove the colons from mac addresses (d0:17:c2:2b:bb:4e d017c22bbb4e) please refer to this post
secure your PLDT internet connection
if you don't know how to get or show the MAC addresses in your PLDT WiFi.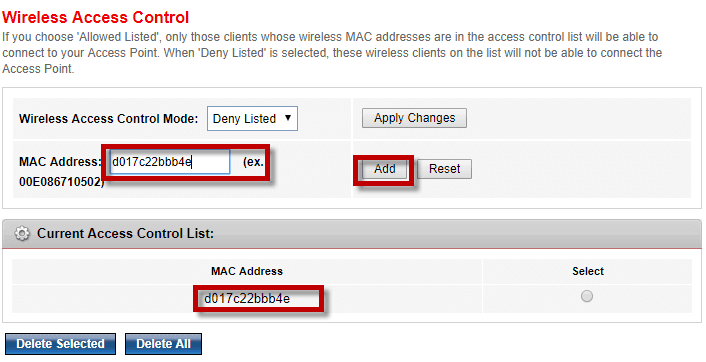 2. Allow listed
In your DSL router, WLAN -> Access Control List, select the "Allow listed". Here, every MAC addresses you input will not be blocked, instead it will be allowed to connect your DSL PLDT WiFi connection. Why would you do that? After all, this post is all about blocking WiFi user, right? I know.
This is how it works. Every mac addresses you input in "Allow listed" will be able to access your PLDT DSL WiFi but any MAC addresses that is not in the list will be blocked from using your WiFi. Only input in this lists the MAC addresses of the device/s that you want to access your WiFi.
Which is better?
In my opinion, I would prefer the "Allow listed" because you don't have to input every MAC address that hacked or connect your WiFi without your permission. All you have to do is, to list all the MAC addresses of all your devices in the "Allow Listed" that you want to have WiFi access. Anything that is not in the list will be blocked from connecting your WiFi automatically.
Aside from that, blocking or denying  MAC addresses has its loop holes. There are many apps right now that can change MAC addresses. So, if you choose the "Deny Listed", you will find it hard to monitor who's accessing your WiFi. But in "Allow listed", you can sleep well or enjoy your game with the best ping ever.
In your own point of view which is better the deny listed or the allow listed? You may speak it out on the comment box below.