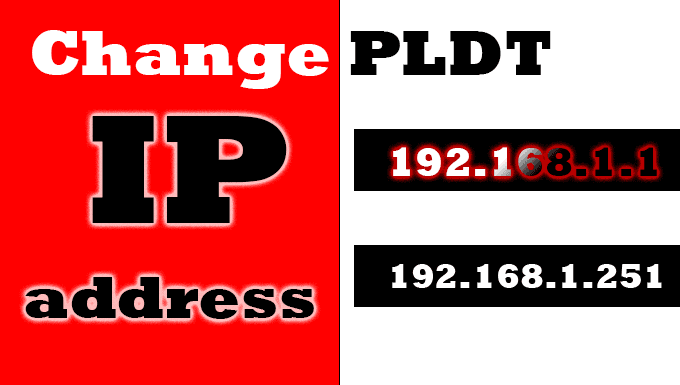 Should you change your PLDT router's IP address? PLDT routers are set with almost identical default IP address. The 192.168.1.1, but due to some changes, PLDT added suffixes on their PLDT IP address. Thus, it creates more PLDT IP addresses or URLs variations.
An average PLDT subscriber may not bother to know their router's IP address. But to advance users, it is vital. Because knowing it is the only way to access the PLDT routers and modify its settings according to their needs and probably wants.
What good would it bring if you change PLDT router's IP Address?
Changing the PLDT router's IP address will not affect the speed of your internet. It will not slow nor boost the download and upload speed. So, what's the catch? There are two reasons:
1 The most common reason for changing the router's IP address is to avoid IP addresses conflict in the Local Area Network (LAN). IP conflicts usually happen if you connect two routers in your network. But we will discuss that on another topic for a better explanation.
2 It will add another layer of protection for your PLDT router. Default values are always not safe; that's my opinion if we talk about the router's IP address. Why? Many people knew the default PLDT IP address, and it is searchable to any search engine. It may not sound like a big deal but give it to a skilled hacker, and the last thing you know, your network is compromised.
Change PLDT DSL IP's
DSL routers have two admin accounts the basic and the root admin or adminpldt. To change the PLDT DSL IP address, you need to know your adminpldt account username and password. Because the primary admin won't let you change the DSL IP address.
In this tutorial, I am using the Prolink DSL router ( PROLiNK PRS1241B ) because I owned one when I subscribed to the PLDT Home DSL Internet connection. It is now a spare router after I migrated to PLDT Fibr. I will be using these credentials:
username: adminpldt
password: 8d32f84964abbc7a6097e43
1
In your favorite browser, type
192.168.1.1/pldtadmincel.htm
, log in using the default credentials above if we have the same router model, or look for your router's username and password in
15 New PLDT routers passwords and usernames.
If your router's password is not the default one, use that instead.
2 Inside your PLDT DSL router, select Setup, LAN, and the sub-LAN.
3 In the Interface Name, you will see the DSL IP Address. Notice the last value (4th octet) of the IP address from 1; I changed it to 254. You can do so by changing the value from 2 – 254 (192.168.1.2 up to 192.168.1.254). Don't forget to click save or apply for the change to take effect.
Quick tips: The router may reboot to apply the changes.
PLDT Home WiFi Prepaid IP address
Unlike the PLDT Fibr and PLDT DSL, PLDT Home WiFi Prepaid has only one admin account that can do everything to configure the router. Like changing the IP address.
The default IP address is still 192.168.1.1, but you can also use these URLs https://www.pldthomewifisettings.net for White modem and http://pldthomewifisettings.net for black PLDT home WiFi.
Quick tips: There is no username for PLDT Home WiFi prepaid; all you need is the password. It is located at the bottom of the router. The password is pldthome.
1
In your browser, type 192.168.1.1 or
https://www.pldthomewifisettings.net
to access the router's login page.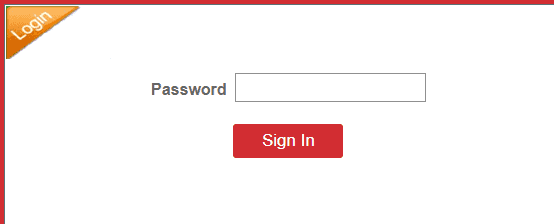 2 Input the password (pldthome). If needed, follow the wizard instructions. Inside the PLDT Home Prepaid WiFi, navigate to Home Network and DHCP Settings.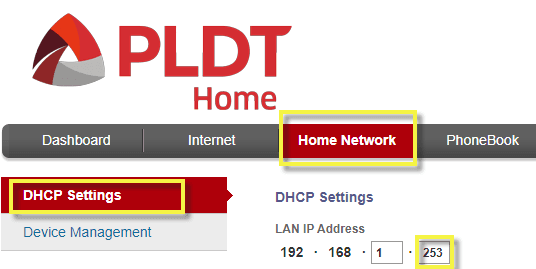 3 On the right side of the tab, you will see the LAN IP Address. As you can see, I change the last IP value (4th octet) to 253 from the default 1. Do the same to modify your PLDT Home prepaid WiFi IP address from 2 – 254.
PLDT Fibr IP Address change
You need the root access to change the PLDT Fibr router's IP address. Please refer to these articles; 8 easy steps to access PLDT Home Fibr and How to access RP2631 PLDT Fibr.
Now that you already know how to access your Fibr router, let's proceed to step 1.
1
Login to PLDT Fibr router using the Fibr credentials that you got from the posts above.
2 Inside PLDT Fibr's router, select Network tab and LAN settings.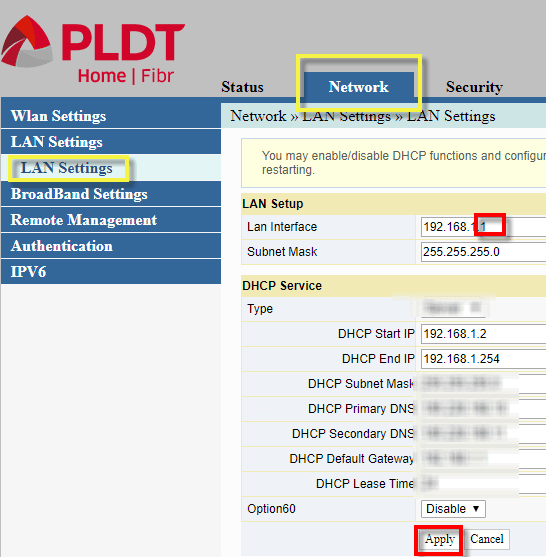 3 In the LAN Interface section, you can change your PLDT Fibr router's IP address from 192.168.1.1 to 192.168.1.2 – 192.168.1.254.
Question
Can I change my PLDT router's IP address from 1st to 4th octet? It's doable to third party routers, and it's going to be the same with PLDT router. However, I suggest not to do so as of this time. Please wait for my other post dedicated to that. The advance method of changing the PLDT IP address.