What is Shortcut virus?
Shortcut virus is a fusion or combination of Trojan and Worm that keeps your files and folders hidden. Then, creates a shortcuts decoy of all of your files with .exe, .lnk and.vbs extensions.
It's a worm since it has the ability to replicate itself over and over again. Trojan because of its stealth behavior, you will never know that it's already in your computer system. How it infects USB Flash drive and computer?
If you insert a shortcut virus infected flash drive into your PC, most likely, the computer will get infected. On the other hand, if the computer is infected, any flash drive or portable device you plug into it will also get shortcut virus.
Why my PC and Flash drive files became shortcuts? Definitely, that question is the very reason why you are here. Another question that you might ask is, "I have an antivirus but how come I still got infected with this shortcut virus?" The short answer is, not all antivirus can detect shortcut virus.
However, the good news it's not that hard to remove. In less than a minute you can easily remove, terminate and prevent shortcut virus from your computer by yourself. All you need is to follow the step by step guide below.
Recommended reading: 7 Signs of Virus infected flashrive
Types of Shortcut virus
Recommended reading:11 ways to prevent computer viruses
Shortcut virus has two types; the most common is Flash drive Shortcut virus, then the File and Folder Shortcut virus. These two includes the following shortcut virus variants: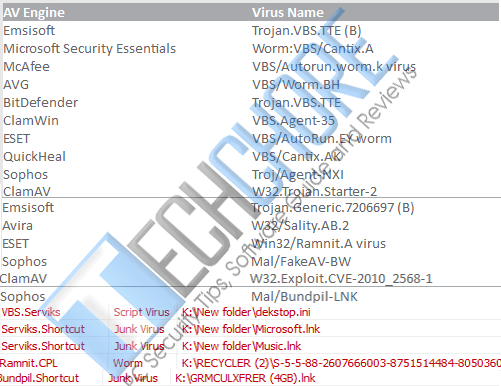 Emsisoft – Trojan.VBS.TTE (B), Trojan.Generic.7206697 (B).
ESET – VBS/Autorun.EY worm, Win32/Ramnit.A virus.
Microsoft Security Essential – Worm:VBS/Cantix.A.
McAfee – VBS/Autorun.worm.k virus.
AVG – VBS/Worm.BH.
Bitdefender – Trojan.VBS.TTE.
ClamWin – VBS.Agent-35.
Quickheal – VBS/Canteix.AK.
Sophos – Troj/Agent-NXIMal/FakeAV-BW, Mal/Bundpil-LNK.
ClamAV – W32.Trojan.Starter-2, W32.Exploit.CVE-2010_2568-1.
Avira – W32/Sality.AB.2
SmadAV – VBS.Serviks, Serviks.Shortcut, Ramnit.CPL and Bundpil.Shortcut.
Norton – Trojan.Gen.2 (Shortcut virus)
Most shortcut virus ends with .EXE, .VBS. LNK and .INI file extensions.
File and Folder Shortcut Virus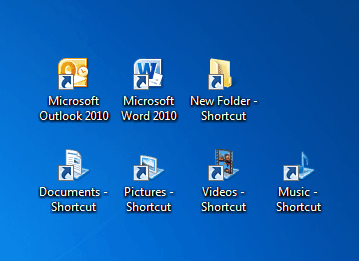 This will replicate your files and folders, hide and replace it with shortcuts.exe, shortcut.lnk, file.ini (desktop.ini) and shortcut.vbs. This is a combination of Trojan and Worm. The bad thing about this, it will leave you no options but to click it in order to open your files and folders. Then after executing it, the virus starts to duplicate itself and install malicious software that monitors your computing habit and worst, steal your important data and credit card information.
Flash Drive Shortcut Virus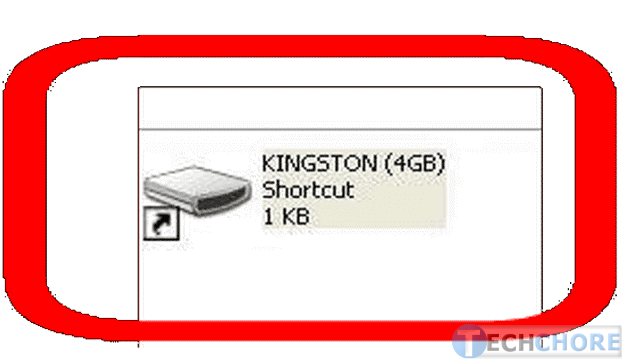 This is purely Trojan; it consolidates every file in your portable devices and put it into one hidden folder. Then, it creates a Flash Disk shortcut.exe. Like the file and a folder shortcut virus, it will give you no choices but to click it to see your files. Once executed, it installs malicious applications that spy your computing routine and most probably steal your financial records if not detected.
Shortcut Virus First Aide
Unfortunately, as what I have said earlier, not all antivirus can detect this type of virus. So, the best thing you can do, is to make-it-a-habit not to open your portable devices or hard drive via autorun or from "my computer". Here's the complete Shortcut virus First Aide to do lists;
Do not open your Flash Drive via autorun and from My Computer.
Open your Flash Drive and Hard Disk by right-clicking it, then click explore or type  its drive letter in the windows address bar to prevent any script from running.
Follow the instruction here how to unhide Files hidden by the virus, to see the real files which are hidden by the Trojan.VBS.TTE virus and to avoid executing it.
The above steps are designed to prevent shortcut virus from infecting your computer. It will also help you distinguish the real file from the virus-made files. As what I have said earlier, even prominent antivirus failed to catch VBS.Serviks virus. Nonetheless, I will be sharing you 3 methods to remove it, follow the guide below;
How to remove shortcut virus using shortcut virus remover tools – Method 1?
Download these two tools, namely: Trojorm Removal Tool and Shortcut virus fixfolder
Now, after downloading the shortcut virus remover tools above, extract it using
winrar
or any other file decompressor. Then run the "Trojorm Removal tool" first, make sure that you run it inside your flash drive, wait until the scan is complete and press enter.
Next, copy the Shortcut-Virus fix folder, paste it inside your flash drive or external drive. Then, open it via right-click, choose "open with" and select "notepad". Look for the H:, change it according to your Flash Drive's letter (ex. E:, F:, G: and so on).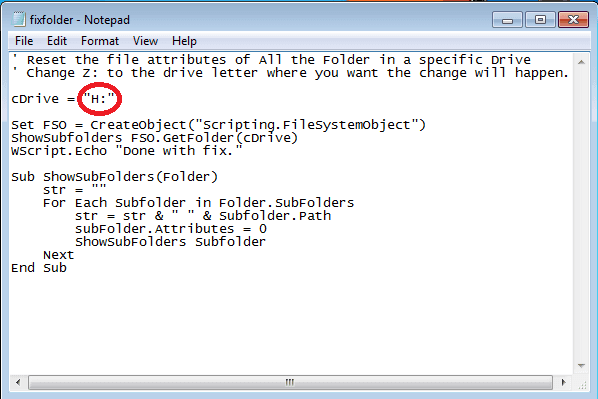 So, if you are done editing, save it. Now double click the vbs file or open it via right-click, choose "Windows Based Script Host". . .after running the script, Win32/Ramnit.A virus virus must be gone and your files are now visible.
How to remove Shortcut virus using command prompt/CMD? – Method 2
You should  proceed this method if the first one doesn't work. This involves a "command prompt". Now click "start", "run", "type CMD" "type the drive letter of your flash drive or external hard disk and a colon after it "eg F:" Once done type this attribute "attrib f:*.* /d /s -h -r -s". You should see your files now and Shortcut VBS.Agent-35 virus must be removed.
Please take note the
f:
after the
attrib
, change it with your flash disk drive letter; if your flash drive, drive letter is e: then change it with e:. Try also this command if the above doesn't work;
attrib -h -r -s /s /d e:*.*
  change the
e:
to your device or flash drive letter.
HOW TO REMOVE SHORTCUT VIRUS FROM REGISTRY?
Please take note that this guide is for advance users only. I will not be liable of whatever consequences that may take place after following this guide. I am not trying to frighten you but one mistake may affect your PC's normal operation.
Press the windows key + R, type "regedit" to enter the registry.
Navigate through

HKEY_CURRENT_USER / Software / Microsoft / Windows / CurrentVersion / Run

. Normally, you shouldn't see any key except the default as you can see in the image below. Any key that is unusual such as WXCKYz, OUzzckky and other that ends with VBS, INI, LNK and EXE extension are safe to delete. However, this is a case to case basis, do this in your own discretion. Besides you are the only one who knows what software you install in your computer.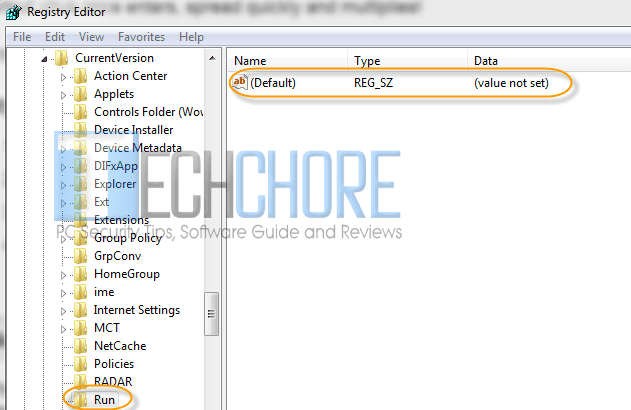 Press the windows key + R again, type "msconfig" click "OK", in "Startup" tab uncheck everything except your antivirus. Click "OK" and "Restart now".
Shortcut virus remover tools and command prompt access denied problem
Shortcut virus remover and CMD attrib command are two best methods of removing shortcut VBS/Autorun.worm.k virus ill-effects. However, in some occasion using these methods returns an access denied error. This problem is common on hard disk that uses NTFS this is rare on Flash drives (FAT & FAT32).
Solutions:
In fixfolder, see to it that you change the drive according to your Flash drive and hard disk drive letter.
In the command prompt, make sure that you typed the command correctly including the spaces.
What if you did everything right, from changing drive letter and typing the attrib command accurately as it is and still receive the access denied error?
How to clean, delete and remove stubborn shortcut-virus from extremely infected PC, computer, laptop, notebook and other portable devices permanently?
You followed the virus remover guide above and found it helpful. In fact, your shortcut-virus problem is now solved. However, after plugging again your Flash drive, external hard drive (HDD) and SD card it became infected again. Why this happen?
Reason:  Your computer is extremely infected with shortcut-virus.
Solutions: You should clean your PC first and protect it before inserting any of your storage devices. How?
Note: Please do not restart your PC until you finished installing SmadAV antivirus.
How to remove shortcut virus Video Tutorial
This video tutorial, is an answer to all emails, requesting me to make a video tutorial of this post. It will be the best solution for those who are fond or more comfortable on video tutorial. In this tutorial also, you will learn the two types of this virus. It is all in one Shortcut Virus removal How-to.

Shortcut Virus Remover
Finally, if you followed the two methods above and still you see the shortcuts,  use this  Serviks.Shortcut remover to remove those shortcuts remnants.
Download: HFV HFV Hidden Folder Virus is my favorite shortcut remover. It is easy to use and you don't need to install it in your system because it works as a standalone application. If run in the first time, it will prompt you to enter your desired password.
HFV can disinfect and remove shortcut virus both from internal and portable devices. To clean your Hard Drive, Folder, Files or Portable device just simply click the "ADD" or "BROWSE", select the desired drive, folder or file, then choose the "Delete Virus" after that click  "Unhide Files" to recover your files. That's how easy HFV removes shortcut Trojan.Gen.2 virus.
If you are not comfortable of using HFV, other shortcut virus remover and alternatives are given below.
USBFix is a USB utility software designed primarily on Flash drive or portable devices disinfection but also able to clean your computer partitions. An installation is required to vaccinate your PC or SD card, flash drive and external drives.
The good thing about USB Fix is it's updated, they released the 2018 version already. To remove it simply click the "vaccinate" and the rest is automatic.
Shortcut Virus Remover v3.1 this is one of the most popular shortcut virus remover on the web. Like HFV, you don't have to install this. By double clicking  shortcut remover 3.1, a pop up box will appear, giving you two options. If you want to remove it from your pen drive, simply choose "Pen Drive", select the drive letter and click scan. However, if you want your PC to be cleaned then select "Computer" then "Scan".

Shortcut Virus Remover BAT this is a BAT file, very light with just 3.6Kb yet effective in removing shortcut virus with just one click.
How to prevent shortcut virus from coming back?
Install HFV or SmadAV as your primary defense and a good antivirus. Then do a weekly scan with Malwarebytes to complete your solid protection. Your comments and suggestions are highly appreciated to improve this How to Remove Tutorial. Speak up your mind in the comment box below.