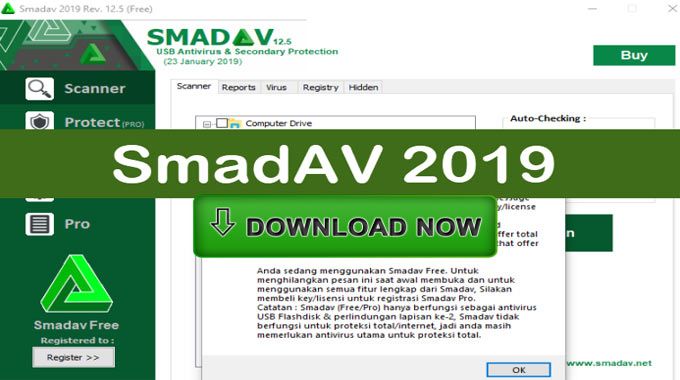 What is SmadAV Antivirus?  It's an Indonesian antivirus. Moreover, Smadav is considered as one of the lightest and effective antivirus against worm viruses and trojans like shortcut virus.
It is designed as second layer security for your PC, but it acts as your computer's first defense. Capable of scanning every plugged portable device like a USB drive in your PC and laptop alike, before your main antivirus does its work.
SmadAV Antivirus 2019
Price: 0.00
Currency: $
Operating System: Windows 7, 8 & 10
Application Category: Antivirus
Features

Effectiveness

User Interface

Compatibility

CPU Usage
Comments Rating
( reviews)
Pros:
Effective Flash drive protector.
Removes common and new thumb drive viruses.
Prevents viruses from infecting portable devices.
Automatically scans portable drives
Cons:
Most settings are disabled in SmadAV Free.
Password protection disabled in the free version.
Exception list disabled in the free version.
Sometimes scans and removes legitimate files.
Auto-update is disabled in the free version.
Free message alert, it's annoying.
SmadAV Free Antivirus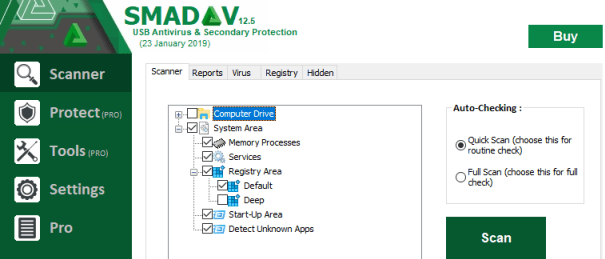 See also:
What's new to Free Smadav Antivirus 2020?
The latest version of SmadAv which is 13.5 added almost 146K new viruses signatures on its database. The Smadav free message got a new design.
The Smadav development team are now employing new and fixed some methods on collecting PC program statistics to help the development of better Smadav.
Smadav 2019 latest version 12.5: History of Smadav: here

New database of 200 new viruses.
Improved detection capabilities of Flash Drive and adware viruses.
New U.I (User Interface) Smadav 2019.
Bugs and errors repair.
Update of terms and agreements of Smadav Pro purchase.
SmadAV 13.5 Antivirus latest version (Direct Download):
How to install SmadAV 2020?
It's similar to other anti-malware products. In short, all you have to do is, to double click your downloaded SmadAV set up to start the installation process.
The language used is Bahasa but, you can change it to English if you are not from Indonesia to understand the installation wizard. Just follow the wizard during the installation process until, in the end, it will take about one minute to complete the installation.
Features
This 2019 Smadav made major changes in their Free version. Previously, the "Tools" and "Protect" features are accessible to Free version users. Unfortunately, since the release of SmadAV 2019, it only allows SmadAV Pro users to use those features.
Moreover, SmadAV free version users can still access the "Scanner" and "Settings" tabs. However, in "scanner setting" you cannot set anything except it is just viewable for SmadAV free users.
Scanner
This includes 5 tabs in SmadAV (U.I.) user interface:
Scanner
Reports
Virus
Registry
Hidden
Settings
General Settings
Scanner settings
Quarantine settings
Advantages of SmadAV Pro
Automatic Update
Exception List
Minimize/Maximize Interface
Change Theme Colors
Profit Use
Admin Password
How effective is SmadAV Antivirus?
It detects my AV tester and USB viruses, however, it fails to catch some malware and rootkits which honestly confessed by its developer.
SmadAV is more on USB Drive protector, aims to protect your PC and portable devices from autorun virus, thus, prevent all known worms and trojans from multiplying or infecting your computer devices.
In conclusion, I tested all SmadAV Antivirus tools and its functionalities, it's all doing its job as intended. The only failure I encounter is from its Win-Force, 1 out of (4) four, isn't executable, that is its System Configuration Utility also known as Msconfig.
Have you tried SmadAV Antivirus? Share us with your experience.