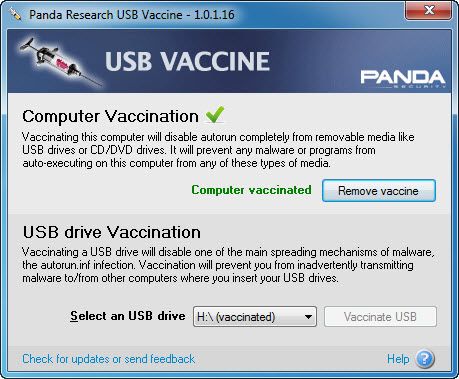 Download Panda USB Vaccine
Panda USB Vaccine is an anti-malware vaccine for USB Drives.  We all know, nowadays that the most common virus carrier are the portable devices such as; Flash drive, SD cards and others. So, protecting your computer from these carriers is important.
That's where Panda USB Vaccine comes in. It is a free anti-malware solution for USB drives from a well known Antivirus brand, Panda Security.
How to download Panda USB Vaccine?
Normally, for you to be able to download this USB Antivirus you need to fill a form in the Panda Security website.
Then you see a notification that states, "we have sent you an email with access to download the USB Anti-malware". Therefore, it is important to write the correct email.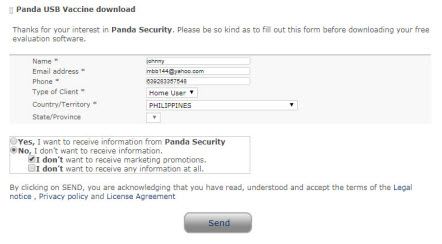 However, we decided to make the download easy as possible. Skipping those online forms. To save time and effort. So, feel free to download Panda USB Vaccine.
Download Panda USB Vaccine Now!
Features
Panda Vaccine USB doesn't have a fancy features compared to other alternatives. It has just two, yet unique features. The Computer Vaccination and the USB Drive Vaccination.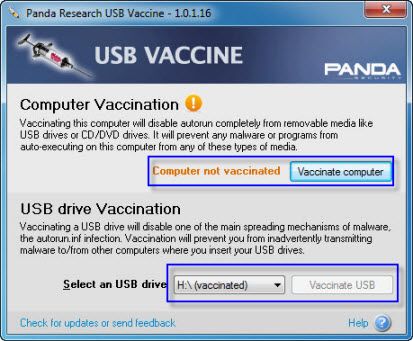 Computer Vaccination if turned on will completely disable the auto-run of portable devices. Like the CD/DVD's and USB Drives. Thus, prevents any malware from auto-executing itself to infiltrate your computer or laptop, to steal data and mess up your PC. However, while it is recommended to always turn it on or enabled, you still have the option to turn it off.
USB Drive Vaccination
Once you plug a device on your USB ports it will be automatically detected and vaccinated. What it does is that it disables the main cause of spreading malware infections, the autorun.inf. The vaccination will help you prevent from unwittingly transfer malware infections to other computers in your network.
How to install Panda USB Vaccine?
It's very simple, download it here, run the program and follow the installation wizard until the installation is finished. You can then set to run the program on Windows start-up.
System requirements:
Windows 7, Windows 8, Windows 8.1 & Windows 10
32 bit & 64 bit
Have you tried Panda USB Vaccine? Tell us about your experience. We really value your input, leave a comment at the comment box below.