PLDT Fibr review: is it better than PLDT DSL? PLDT Home Fibr is PLDT's new product line that may eventually replace PLDT DSL. It is considered better than its predecessor, tough not all customers are happy about it. In fact, it garnered mixed reviews from their subscribers. Continue reading to learn why.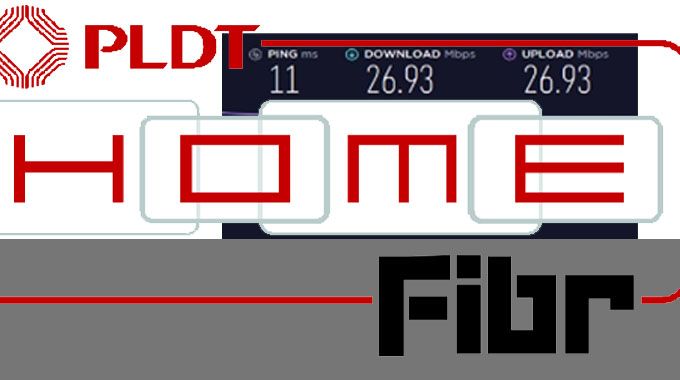 As one of the Home Fibr subscribers, I would like to share my real experience. To give future PLDT Fibr customer a view on its pros and cons.
Speedtest
Our plan is Home Fibr 1899. I am supposed to be paying that exact amount but since I was not able to take advantage of their free modem promo. There is a monthly add-on of P109 more or less. I just forgot the correct amount. So, my monthly bill is 2K plus (current bill P2007.42 for March 2019). It has a download speed of 20 25Mbps as well as 25Mbps upload speed (symmetrical).
When testing its download and upload speed, I just browse to speedtest.net website to see the results. So far, the speed are very good. I usually get the following results;
28 Mbps download speed and upload speed as the highest.
24 – 26 Mbps download and upload speed on average.
18 – 19 Mbps download speed & upload speed as the lowest.
The test results above are in normal circumstances with no technical issues. If I get (3) three digit ping and 1 to 2 Mbps (which I get sometimes) that's a different story. It means that PLDT is having technical problem and I need to call them (via 171 hotline) to let them know and solve the technical issue.
PLDT Fibr review | Game ping test
The games that I or we usually played are League of Legends, ROS (Rules of Survival), SF (Special Force) and CF (Cross Fire). Below are the different game ping results;
League of Legends – on average, we get 25 to 30 ping but sometimes it may go up to 40.
Rules of Survival – usually we get 98 ms to 200 ms.
Special Force Playpark – the ping fluctuates from 46 to 62 ms.
Cross Fire – the best ping we got is 21 ms, on average 30 to 50 ms.
PLDT Fibr Browsing experience
You may not feel a big speed difference on browsing the internet like opening your Facebook account. As well as internet surfing, doing research and other low bandwidth activities.
Video Streaming
In this area, you will definitely feel the advantage of having PLDT Fibr rather than staying with PLDT DSL. You can stream videos in HD (high definition) and even 4K (2160p). In my experience DSL 5 Mbps (our previous plan), will hardly stream even in 720p, it keeps buffering. So let's see my YouTube video streaming experiences below with PLDT Fibr plan 1899:
720p no buffering
1080p no buffering
1440p no buffering
4k or 2160p it does buffer if you start the video in 4k immediately. But if you start at 720p before going to 4k the buffering issue is gone. Maybe the 50 Mbps plan or higher will have different result.
PLDT Fibr Review | Multitasking
I mean, playing games, watching videos and surfing internet at the same time. Please take note also that your System unit's (computer) specification may have impact on multi-tasking. So, if you experience lag, it doesn't necessarily follows that it's your internet speed's fault.
I multitask using my AMD A8 processor with 8GB of RAM. The result is very good if we talk about internet speed. I can play game with stable ping even if I watch or play videos at the same time. Which I cannot do with my PLDT Home DSL. And I don't need to install bandwidth limiter software to balance the bandwidth in my network. Yes, you don't have to worry about your Mom, sister and brother's WiFi activities, it will not affect your game ping.
Customer Support
Can I just skip this? Hehehe! Well, here are my experiences on how good or bad PLDT customer support is:
Call response time – On average, you have to wait 20 to 30 minutes before your 171 call get picked up. For faster response call them 12 midnight, hhmm?.
Customer Tech Representative Knowledge – Honestly, I would say that they are not knowledgeable enough. They were trained to rely on their screen manual, that's why they will instruct you about those unnecessary things just to follow their SOP. They can't help you solved your problem directly. PLDT put them there as receptionists.
Action response time – When my Fibr connection got cut by an electrical transformer explosion, it took them 16 hours to reconnect it. I told my friends about what had happened and they said that I am lucky. Because in their case, it took PLDT 3 days to 1 week to fixed their cut PLDT Fibr lines. Wow!
In fairness to PLDT tech support team, they are friendly, accommodating and patient. Why I said that? I am the type of caller that will ask so many questions, I want to know the complete details of the problem that I encountered. I know that some of those questions are hard to answer especially if you don't have technical knowledge but most of them tried to answer in a well manner.
In conclusion, PLDT Fibr is indeed one of the best internet connection here in the Philippines. I guess it depends on areas. However, there are still rooms for improvement, especially the call and action response time. Please share your experience about PLDT home Fibr at the comment box below.