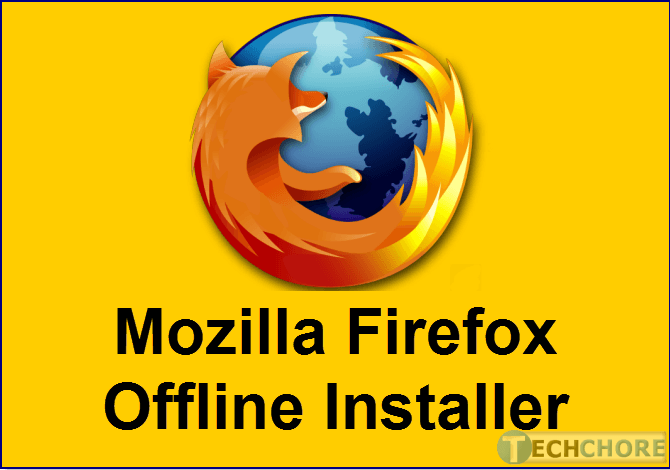 Mozilla Firefox is a popular free web browser  among internet surfer. It is second only to Chrome in terms of users. Firefox provides both web installer and Standalone Offline installer. However, why choose to download Mozilla Firefox offline installer?
Mozilla Firefox Offline installer
Internet dependency

Ease of Use

Speed of installation

Portability
Comments Rating
( reviews)
Why not the web installer? The reasons will be discussed later on this article. But to give you an idea, the good thing about Firefox standalone installer is, it's portable.
Then even-though, you downloaded and installed the old version, after the installation it will auto-update to latest version. Although, sometimes you need to restart Firefox browser for the updates to take effect.
Pros:
Fast installation.
No internet connection is needed.
Portable.
Automatically updates to Mozilla Firefox latest version.
Cons:
It takes time to download.
It should be downloaded fully before it can be installed.
The Offline installer is bigger than the default Mozilla Firefox installer.
See Also: Internet Explorer Download Offline Installer
Download Mozilla Firefox 2019 Offline Installers
Mozilla Firefox Offline Installer for Windows 32 bit latest version 65.0

 Offline Installer for Windows 64 bit Download Firefox latest version 65.0

Latest Update Mozilla Firefox Offline Installer for Linux 32 bit latest version 65.0

Mozilla Firefox Offline Installer for Linux 64 bit latest version 65.0

Download Mozilla Firefox Offline Installer for Mac OS latest version 65.0

Mozilla Firefox Offline Installer for Android latest version 64.0

Standalone Mozilla Firefox Offline Installer for iOS latest version 64.0

Why use Mozilla Firefox offline installer?
Mozilla Firefox offline installer. Why? When you search and download Mozilla Firefox installer from their website, almost immediately the installer is saved on your download folder.
Then, when you run the installer, it will take sometime to finish. Right? Actually, it will depend on how fast your internet connection is. Why?
Technically, it is not an installer but a download manager that downloads the temporary Mozilla Firefox installer and install it afterwards. So, why should I need to have a Mozilla Firefox offline installer?
If you have a good internet speed and want to install on one computer only, you don't need it.
However, if your internet speed is not good and you intend to install Mozilla Firefox on many computers. A Mozilla Firefox Offline Installer is best for you.
Personally, I encounter such issue when one of my client called me because he cannot install any browser that includes Mozilla Firefox. So, first I checked his internet speed and it's worst, at around .30 Mbps. There is no way that I can install any browser in it via internet installer.
What I did was, I went home, downloaded the latest Mozilla Offline installer on my computer, saved it on my flash drive.
Then brought it back to my client and installed it on his computer. That was just some of many advantages of an offline installer.
System Requirements:
Mozilla Firefox Offline installer is just 42 Mb in size and it can run smoothly on any OS, be it Windows, Mac, Linux, Android and iOS.
The good thing also about Mozilla Firefox is that it can run even on old computer hardware. Below is the basic or recommended software and hardware requirements.
Windows users
Windows Operating system like Windows XP SP2, Windows Server 2000, Windows Vist, Windows, Windows 8, 8.1, Windows 10
Hardware
Pentium 4 or newer processor that supports SSE2
512MB of Memory Stick/RAM
200MB of hard drive space
Mac Users
Mac OS X 10.6
OS X 10.7
Mac OS X 10.8
Recommended Hardware
Macintosh computer with an Intel x86 processor
512 MB of Memory stick/RAM
200 MB hard disk space
Linux Users
Note: Linux distributors may provide packages for your distribution which have different requirements.
For Linux users you need to install the following libraries or packages for Firefox to run.
GTK+ 2.18 or higher
GLib 2.22 or higher
Pango 1.14 or higher
X.Org 1.0 or higher (1.7 or higher is recommended)
libstdc++ 4.3 or higher
These are  libraries or packages that are recommended for optimal functionality.
Network Manager 0.7 or higher
DBus 1.0 or higher
HAL 0.5.8 or higher
GNOME 2.16 or higher
What do you think is it really advantageous to use Mozilla Firefox Offline installer?