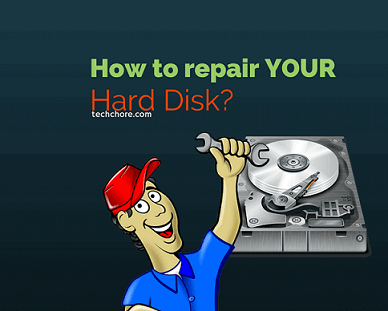 Hard disk repair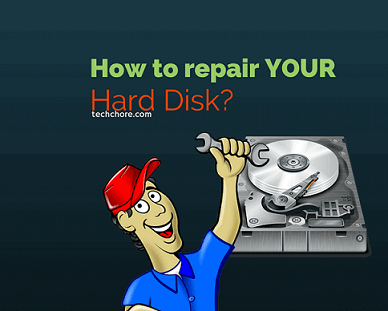 Hard disk repair guide. Hard disk failure is inevitable. When it happens, the first question that comes into your mind: "Is it repairable?" How about your important files stored in that hard drive? Are those recoverable?
This guide will help you answer those questions, recover your important data from that bad hard drive and eventually repair your hard disk, if possible.
If possible? Why?
Some say, everything is possible under the sun, but in reality, not all things are possible. Same true to hard disk repair. The "hard disk repair guide" below is tried and tested with success in the following hard disk status:
Unbootable Hard drive
Dead Hard disk
Crashed hard disk
Damaged hard drive
Undetectable hard disk via Windows
Undetectable hard disk via Disk Management
Hard disk cannot be detected in BIOS.
However, in some cases, especially on hard disk that having mechanical issues (hard drive not spinning anymore or there is a hard drive clicking sound, click here for more hard disk sounds by data cent), the below methods yield a lesser success. So, does it mean that you shouldn't try to repair your hard disk? Of course not, trying won't hurt and the possibility of fixing your hard disk still high. Let's start.
Do you see a pop-up message, "Windows detected a hard disk problem?" follow my suggestions here, "Windows detected a hard disk problem – solved". If nothing happens, maybe the solution doesn't apply to your situation. Let's jump to next step. To proceed, I need you to familiarize the hard disk repair tools below.
Hard Disk Repair Software/Tools
Hard Disk Low Level Format Tool (download here) – is a self-explanatory hard disk utility tool. It will format hard drive at low level, erasing partitions and wiping MBR, making your hard drive near to manufacturer's default state.

(Note: using this tool will make your data unrecoverable)

.
In this moment, I presume that you now have enough knowledge about hard disk repair software/tools which I mentioned a while ago.
What's next?
First, even-though you suspect that your hard disk is damage, it is still wise to do the Hard disk Diagnostic Guide below:
See to it that your hard drive

molex

connector/SATA power cable, IDE/SATA cable are properly attached. Then test, if it solved the problem.
Make sure that IDE/SATA cable in your Motherboard is properly fixed. Again, test it if the problem is solved.
If nothing works, it's time to check your hard disk health.
Boot Parted Magic.
In Linux desktop,

double click

the hard disk icon.
Select your hard drive.

 Hard disk color (RED) – it means the hard drive is dying or dead.
Hard disk color (GRAY) – chances are, the hard drive is still in good health but having minor bad sectors.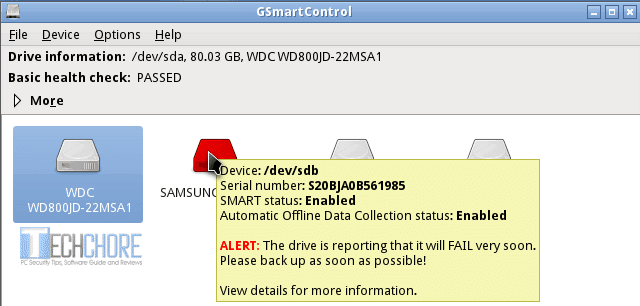 How to recover files from bad/damaged hard drive?
The good news! Whatever the result of checking your hard disk health, whether the color is RED/FAILED or GRAY/PASSED your files is still recoverable.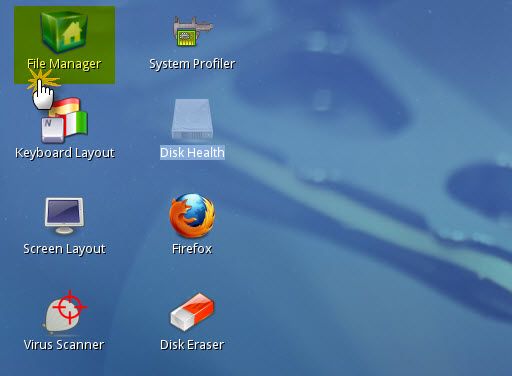 Boot Parted magic.
In Linux environment, double click "File Manager".
Explore the files from bad hard disk, copy all your important data to your extra storage devices such as; hard drive, external hard drive, flash drive, SD card and more.
I can't browse my files through File Manager?
If that is the case, run "Test Disk". To repair, recover partitions and make your hard drive bootable again.
Back to Linux desktop.
Click the lower left icon (semi-square with two horizontal line in it; aka windows start menu).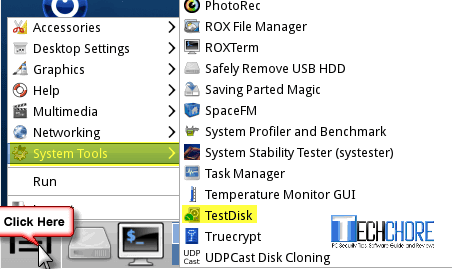 Click "System Tools"  → "Test disk".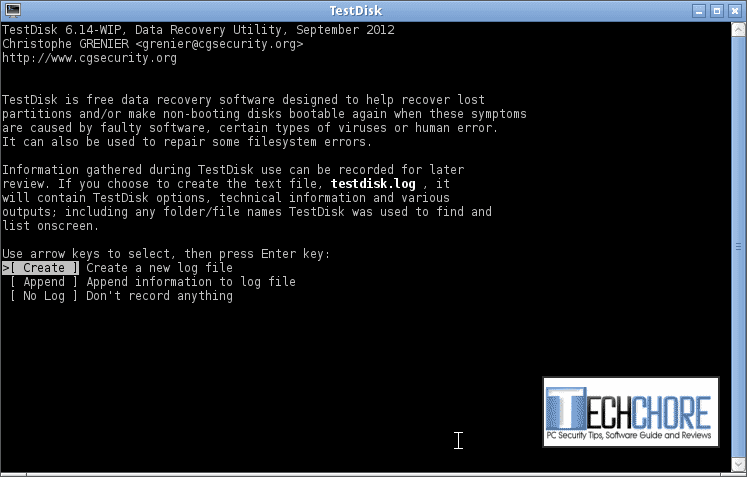 Select the hard disk/bad hard disk that you want to repair.
Select "create" just hit "Enter".
Hit "Enter" or move the arrow-up/down to select the bad hard disk then "Proceed".
Choose the appropriate table type but for Windows user, "Intel" will do.
"Analyze" → "Quick Search" → wait until analyze monitor finished.
"Enter" to continue and follow further instruction, if there is any.
Then try to browse your files again in "File manager". You can't still explore your files? Honestly, there is no more we can do. If your files in that hard disk are of great value bring it to Certified Data Recovery Professionals to have your files recovered.
How to repair hard disk?
At this stage, file recovery from bad hard drive already failed. The problem is now narrowed down to hard disk physical/mechanical (internal or external) problem. Nevertheless, let us try to fix your hard disk with Low-level format method.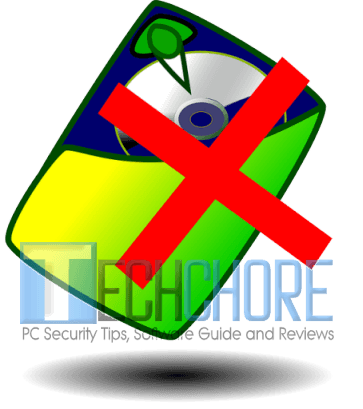 Note: Again, bring your hard drive to qualified data recovery professionals if you want to retrieve your important data and skip the remaining steps below.
How to repair hard disk using low-level format?
Download HDDLL here.
Install and run "as administrator".
Click "continue for free".
Select your bad hard disk and click continue.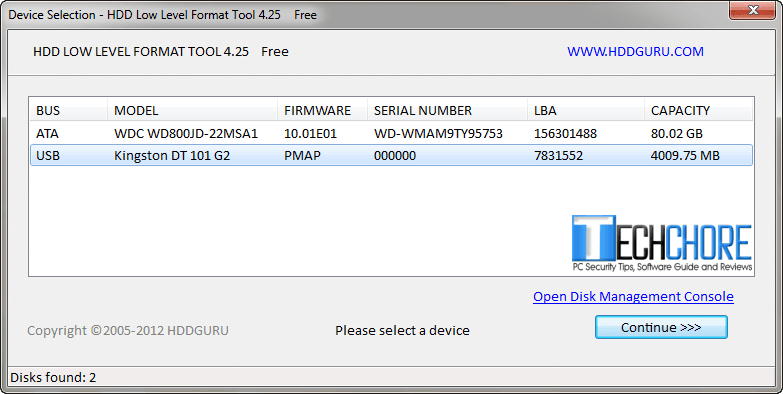 Wait for a few minutes or hours to complete the process. It may vary depending on your hard drive speed. Patience is virtue.
When done, restart your computer.
In Windows desktop right-click, "My computer" → "Manage" → "Disk management".
Click on unallocated hard drive → select "new simple volume" → follow the further instruction until "finish".
Low-level format is not for all, the result varies, you might succeed or fail. In fact, some expert don't recommend it as hard disk repair software. However, based on my experience (I am not an expert just an average tech-guy 🙂 ) low-level format saved several hard drives both my own and my clients.
My advice: Whenever you are lucky enough to repair your hard disk after the low-level format. Don't store important data in it.
Hard disk repair by changing Printed Circuit Board
Is printed circuit board or PCB damaged? If your hard drive isn't accessible in Windows but detectable in BIOS, parted magic, disk management and diskpart command. It means 80% your PCB is good (hard drive dead), no need to replace. But still there is 20% probability that it's broken, if you see some burns on the circuit and the hard drive is undetectable most likely the PCB is busted.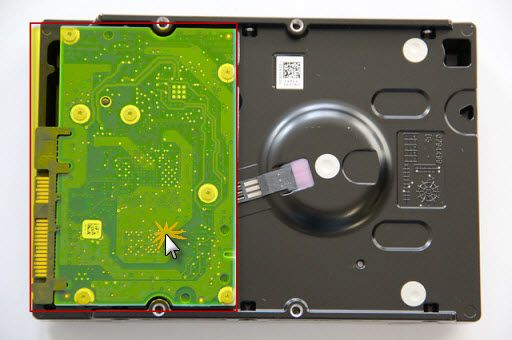 How to change Printed Circuit Board?
Get the appropriate tools; hex screw driver, Philip screw driver or

torx

screw driver whichever is appropriate.
Loosen the screws one by one and slowly remove the PCB.
Replace it with your new or spare PCB. (Note:

You should replace it with the same PCB brand and model. Swapping or changing your PCB may erase all your stored data and will be beyond recovery

).
You can now try your hard drive. If this hard disk repair guide solved it. Congratulations! If not, buy a new hard drive.
Do you have any idea on how to repair hard disk? Feel free to use the comment box below. It would highly be appreciated.