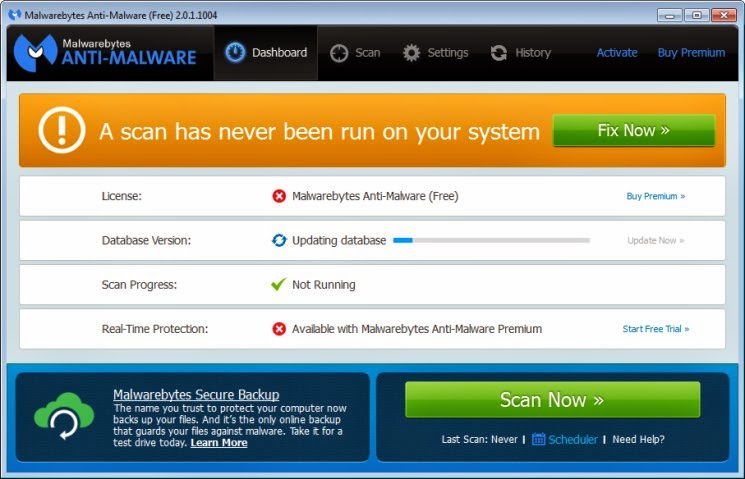 Malwarebytes 2.0.1 Changes
Malwarebytes 2.0.1 implemented minor updates from it's 2.0 version.
Download Malwarebytes 3 updated
Download Malwarebytes 3 Latest Version | Mac OS
Database definition is now updated instantly after installation.
Notifications are no longer shown if the Dash panel is in concentrate to remove unnecessary information.
Significantly decreased the dimension of tray notifications.
Reduced the concentration of colors used for tray notices and  banner notifications in the Dashboard.
Database out-of-date and has-never-been-scan notices now decreased in strength to orange instead of super red.
Fixes
All planned tests should now run without taking up the primary UI so that MBAM users are not interrupted.
Malwarebytes 2.0.1.1004 Free version
As usual, since from the previous version, the free Malwarebytes 2.0.1 has all the database updates except that it has no real time protection. You can run it to remove malware, but isn't protecting your PC automatically. Here are the complete benefits of Malwarebytes 2.0.1 free version:
The database is fully updated.
Almost as effective as Premium in terms of malware removal.
Settings
General Settings – From where you can customize basic options of Malwarebytes from notification, language and explorer integration.
Malware Exclusion – Any files and folders added in this area will be excluded from the scan.
Detection and Protection – If you have a better understanding of customizing Malwarebytes 2.0.1 behavior, you can set it here.
Update settings – Control the functionality of Malwarebytes 2.0.1 updates in this section.
History settings – In this setting you can adjust on how Malwarebytes collects data and logs information.
Malwarebytes 2.0.1 Premium users' advantages
Every benefit that the free users enjoy are also included in the paid version. Plus:
Web Exclusion – There are instances that Malwarbytes block certain IP's and Domains even if it is free from any malicious script or software, you can simply add that IP or Domain here to unblock it.
Malware Realtime protection is on.
Malicious Website protection is also on.
Access Policies – You can restrict and control the level of access for users of Malwarebytes 2.0.1.
Advance Settings – This is for advance users, you can customize Malwarebytes 2.0.1 behavior in this setting.
Automated Scheduling – Create and set scheduled tasks for Malwarebytes Anti Malware.
Review
The MBAM's developers are always looking for ways to improve Malwarebytes. I am one of the people who appreciated it. They also listen to users complain even in minor areas such as colors and sizes of notifications. Looking at the advantages of being a premium user, I am convinced that upgrading to Malwarebytes 2.0.1 premium is really an option. However, just take note that Malwarebytes also change it's license policy, it is now a yearly subscription from a forever license. What do you think of Malwarebytes 2.0.1?