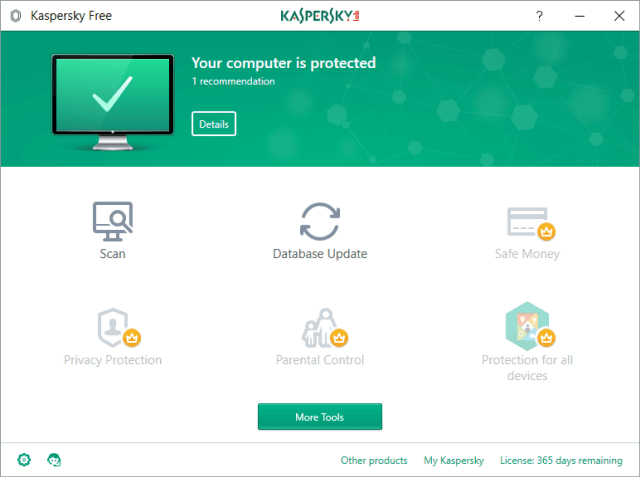 Kaspersky FREE Antivirus
Kaspersky Free Antivirus is the latest security tools by Kaspersky laboratory. The good thing is it's FREE to use with a free 365 days license.
As we all know, Kaspersky brand is one of the trusted Antivirus in the world. So, what does it mean to most free antivirus users? Well, we can now enjoy the Kaspersky solid protection for Free. It cost nothing not even a single buck.
Kaspersky Free Antivirus provides the basic protection that a PC needs. It provides protection against common viruses, malicious files, websites and others.
Your personal information will also be keep safe. Plus it does not slow your computer performance.
Kaspersky Free Antivirus Download

Kaspersky Free Antivirus  Download  Offline installer
11 Features of Kaspersky Free Antivirus
1. File Antivirus – scans every files run, accessed and saved. It includes "security level" options. Which is already set to "recommended" (optimal protection which is the recommended settings for most users). Options like the "high" and "low" are also available and can be set according to user's needs. You can also adjust or set the necessary action once it detects virus such as; block, disinfect and delete.
2. Web Antivirus – It scans incoming web traffic and blocks malicious script from entering or running inside your computer system. you can allow or block incoming web traffic or website. The Web Antivirus advance options can help your manage website URL's, add exceptions, configure trusted URL's and a lot more.
3. IM Antivirus or Instant Messaging Antivirus – Scans incoming and outgoing Instant messages preventing any phishing attempts and malicious links from infecting your computer.
4. Mail Antivirus – Scans incoming and out going email messages especially for dangerous objects. It also includes advance settings for those advance users who want to customize their protection.
Kaspersky Free Additional Settings
5. Threats and exclusion settings – This is where a user can adjust Kaspersky Free Antivirus' Threats and Exclusion settings.
6. Self – Defense settings –  To protect Kaspersky from any malicious modification that is usually done by maware.
7. Network settings – This is where you can adjust the Cost-Aware networking and Encrypted connections scanning.
8. Reports and Quarantine Settings – Report files and quarantine information are vital. The default value is to store those files in a month but you can change it to a day, week, semi annual or yearly. But monthly is most preferred. It will give you enough time to check the files and it will not make your storage full.
9. Additional Protection Tool –  It helps Kaspersky Free Antivirus to react promptly on new threats found and reduces false positives.
10. Kaspersky Free Display Settings – Kaspersky is also concern on how its UI looks but it gives an option to users to enable or disable it if necessary or as computer resources allows.
11. Kaspersky Free Antivirus On- Screen Keyboard – In an effort to help everyone against keyloggers, Kaspersky added On-Screen keyboard to protect their users from malicious software or scripts that tracks key stroke. To use the On-Screen keyboard, simply click the shield icon at the upper-right side of your browser.
What do you think about Kaspersky Free Antivirus? We invite you to try and share us your experience about Kaspersky Free Antivirus.