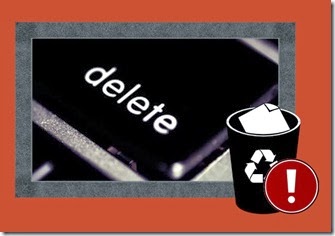 Recover deleted files
Are you one of those who accidentally deleted your files? Have you checked your Recycle Bin but nothing is there?  You do not know, what to do?
Recovering Deleted Files
The first thing that you should do is to quit everything what you're doing on your computer. Then, be glad, you still have a big chance to recover your deleted files and folders. The fact is, if you deleted a file or folder, it is not gone yet forever, it is still there, but in white space which is ready to be overwritten. That's why, I prompt you to stop your computer activity right away, to prevent it from being overwritten and increase your chance of recovering your precious data.
Number two, download Restoration on another computer and save it in your flash drive. We will be using this free software to retrieve your files. If another computer isn't available, just download Restoration through your PC but make sure not to save it on the drive or partition that you want your files to be recovered, directly save it to your thumb drive instead.
How to use Restoration to Recover Deleted Files?
I presumed that you already downloaded Restoration, just simply run it and follow the installation wizard's instruction. The restoration installer isn't actually installed in your PC rather its uncompressing, at the end of the wizard, press unzip and you are ready to go. Usually, the extracted restoration software is located on drive C: with Folder's name "Restoration". Now double click the Restoration exe., and you will see the image below.
Select the drive from where you want to retrieve your files.
If you want to search for specific file names or, by extension you can type it in this box.
"Include used clusters by other files", just leave it blank to get better recovery results.
 "Include even if it has a zero file size", again, don't tick it, it's pointless.
 After seeing recovered files, select the one that you are looking for or you can choose everything and sort it later. Finish it off by clicking "Restore by Copying".
My deleted files, wasn't recovered, why?
This method isn't perfect, like any other recovery tips, especially if you lost your files a week ago or months. Recovering deleted files with Restoration is advisable only, if you have just deleted your data. Moreover, if it happens that you are using SSD (Solid State Drive) Hard drive, retrieving deleted folders and files with Restoration (even with paid data recovery softwares)  is almost impossible and if your hard drive is mechanically broken then the recovery is also slim.
One size doesn't fit all, however, this tutorial is very effective in recovering fresh deleted files. Do you know another way of recovering deleted files? Share it with us.