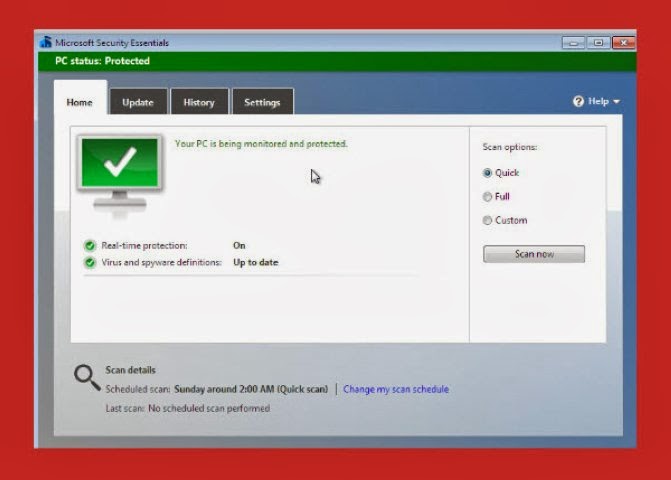 Microsoft Security Essentials
Microsoft Security Essentials is one of the most popular free antivirus. Many, choose it over other free antivirus and even to the paid one. But, does it really worth it?
Microsoft Security Essentials Features
One of the reasons why most people like Microsoft Security Essentials is its simplicity. It has only four (4) tabs, the Home, Update, History and Settings.
The Home tab consists information about your PC Real-time Protection and the Virus Definition updates. You can also scan your PC according to your selection through the right side menu and at the bottom, there's a link from where you can schedule Microsoft Security Essentials, when to scan your PC.
Microsoft Security Essentials' Update Menu, is the place where you can manually update MSE, though it is automatically set to update by itself.
History tab, it is where you can find the detected viruses which are being quarantined. You can also choose what information would you like to see.
 The Quarantined Items, items that were stopped from running but still in your PC.
 Allowed Items, these are the allowed applications
All Detected items, all detected files are shown here.
 Microsoft Security Essentials Settings. The last tab, but for sure not the last. In this section you can configure Microsoft Security Essentials, on how it works. You can exclude files and locations, File types and system processes. In Advance settings, you can set when to remove quarantined items, by default it's three (3) months. Aside from that, you can also configure Microsoft Security Essentials to "Scan Removable Drives" for better protection against portable devices that usually the number one carrier of viruses. Lastly, creating a system restore point is one of it's best options available. It is helpful because it will prompt the computer system to create a restore before, removing, running and quarantining detected threats.
System Requirements
A 500 MHz CPU, 200 MB Hard disk space, 800 X 600 VGA  and 256 of RAM are enough to run Microsoft Security Essentials. It supports Windows XP, Windows Vista and Windows 7 both 32 or 64 bit operating system. However, if you are using Windows 7 you need at least a 1 GHz CPU and RAM.
Compatibility with Other Anti-Malware
I run it with Malwarebytes and works fine, both Pro and Free version as well as with Malwarebytes 2.0 Beta.
Conclusion
Microsoft Security Essentials may be attractive for Home users because it's free. However, it doesn't have the complete solution to keep your computer safe. Look at the AV comparative test results, it's not as good as its Free Antivirus counterpart. Plus you cannot install it on other partitions because by default it uses drive c:. It means if you are using deep-freeze, you need to manually update it.
The only thing that I personally like it is its false alarm rate, it is the best, but with a lot of threats compromises, I cannot even recommend it as your sole PC protection. If you are really a fan of it, just add Free Malwarebytes to  help Microsoft Security Essentials against viruses. Have you tried Microsoft Security Essentials? Is it worth it?