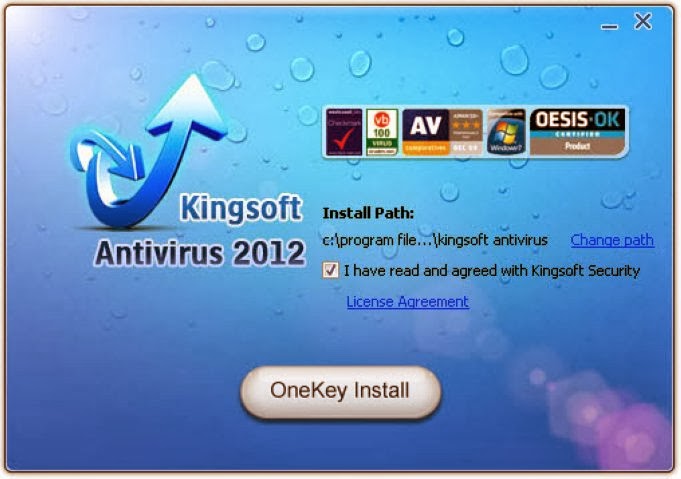 Kingsoft Antivirus light yet powerful? 

Kingsoft tagged its Antivirus as PC Doctor before, but now its Kingsoft Antivirus 2012, a Cloud Antivirus. It is light, the installer is just 14 MB, fast to download and fast to install too. No Antivirus in the industry that can compete its installation speed with less than a minute, even Panda Cloud Antivirus is no match against Kingsoft if we talk about installation swiftness.
Kingsoft Antivirus 2012 Features
Kingsoft uses 7 defense system:
System Defense – It is its Realtime protection against viruses and other security threats.
Web Defense – It helps protect your privacy and possible web viruses, while browsing the internet.
IM Defense – Browsing isn't just the only way to disclose your privacy that's why Kingsoft add IM Defense to protect you while chatting.
Video Defense – Watching online videos is fun, but it also includes risks. Thanks to this Video Defense feature by Kingsoft.
Download Shield – Are you fond of downloading your favorite legal music and videos, you are always protected with Kingsoft.
USB Defense – Portable device is the top virus carrier, the reason why, Kingoft add this feature.
Anti-Hacker – It blocks port attacks, trojan download, hacker control and webcam exploitation.
Kingsoft Antivirus Scan
Full Scan – It scans everything, from memory to all key devices in your PC.
Quick Scan – It is as effective as full scan, but covers only minimal areas. It only scans those vulnerable parts of your computer.
Custom Scan – It is a selective scan, it will only scan the file, folder, portable device and hard drives that you selected.
Kingsoft Cloud Antivirus Utilities
Vulnerability Fix – It allows you to scan and repair PC vulnerabilities.
Schedule – Kingsoft allows you to schedule your virus scanner.
AppMan – This utility enables you to end processes. It is more like a windows task manager.
Kingsoft Antivirus 2012 Settings
This is where you can configure everything, it consist all the settings of Kingsoft. The Basic, Virus scan, Boundary Defense, System defense, Self Protection, Trusted Files, USB Defense and Other settings. By default, it is optimized according to the average user, if you are not sure how and what to change, just leave it as is. The only thing that you might need to configure in this area, that would be the Trusted Files, by adding your legitimate file, folder and application that somehow detected by Kingsoft as a virus.
Kingsoft Compatibility
Kingsoft Antivirus can run smoothly even on old PC's. It only requires 500 MHZ, 256 RAM and a 150 MB of Hard Disk space. It is also fully compatible with Windows XP, Windows Vista, Windows 7 and Windows 8.
Kingsoft Antivirus AV Comparatives Grade
Kingsoft got a 92.6% Protection rate, but AV Comparatives have no data about its Detection and False alarm Rate.
Kingsoft Antivirus Review
It is the lightest and fastest Antivirus in terms of installation. However, I never measured Antivirus about its speed of installation, though Kingsoft is also light in my PC resources. Honestly, I am not impressed about its Protection capability, it misses some trojans and shortcut virus. Nevertheless, Kingsoft may not be the best choice as a sole PC Protector but it is a great addition to your PC Security or you can combine Malwarebytes with it and experience a better Computer protection.
Have you tried Kingsoft Antivirus 2012? What is your experience about it? Share us your advice.