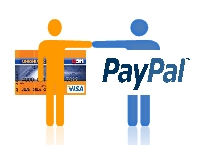 How to link your Unionbank Eon card to your Paypal?
1. Enroll your eon card          
    Go to unionbankph.com click "

eon

(at the top of the page)," then "

cyber account log in

" and click enroll.
2. Sign-up to paypal and confirm your email address.
   After sign up, Paypal will automatically send you an email that needs to be confirmed.
3. Input your bank details.
    How? Simply log in to your Paypal account, click "Profile tab" and then click "Bank account" and there you go fill in the form accordingly.

(take note: your paypal account name and bank account name must be the same to avoid future problems.)
4. Add your debit card.
Just click the "

unverify

" in your status column, located at the bottom of your name.That's it, fill in again the form correctly and then confirm. After confirmation, paypal will deduct exactly P101.00, from your eon debit card for the purpose of further confirmation, but it will be credited as your paypal balance.
If you are successful proceed to the next step below. However, if you encountered an error such as "

your credit card is blocked

," try again. Nevertheless, if error persists, you need to talk to your bank, in this case the unionbank where you got your eon debit card. The possible problem is that, your eon debit card was frozen by the bank (meaning you can deposit, but you cannot withdraw and link your eon to your paypal). Why? It simply because you did not receive their letter. Yes! As far as I know, Unionbank will send a letter to the address you stated in your application form after you are being approved. Don't worry, they can fix it in just a matter of hours. I think its time to finish this of.
5. Verify your debit card
Here we go, after adding your debit card as what I have said earlier, paypal will deduct something 100.00, to make a transaction record in your eon online account. In this transaction paypal will send you the what we call expuse code, it is a four digit and its all numbers usually after the asterisk sign(*). Now login to your eon account and click the transaction summary. Look for the paypal transaction and copy the four numbers. Then login to your paypal account click "unverify" and paste the four numbers…Voila!! That's it you can now use your paypal in full force.
Question and reactions? Just simply strike your keyboard for comments below…