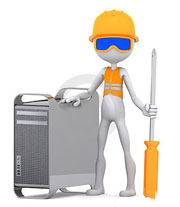 Stabilize Internet Cafe Business
How to Stabilize Internet Cafe Business? Stabilization is everybody's primary concern, whether you are employed or doing your own business. It means economic security to some of us. The reason why Internet cafe business needs to be stable to be more profitable. How?
Don't sacrifice the 3 C's ( Clean, Cool & Comfortable) for 2 C's (Cost Cutting)
Cost-cutting shouldn't jeopardize your business. I know you need it but don't overdo it.
Completely removing your air-conditioner which is now the trend of most internet station doesn't do good.
Reducing your manpower that sacrifices the cleanliness of your shop is bad idea.
Having no technical person to maintain the good functionality of your computer units is unwise.


Don't be confuse between investment and expenses

Upgrading is investment not expenses as many net owners sees it. Upgrading is vital in Internet cafe, it is the heart of the business. It affects your shop's image. Therefore acquiring good computer units and peripherals  molds a better image. The better your image, the more customers will come in.
Complacency kills business. Internet cafe is a business, so be careful. What I mean is that, don't be content by just offering computer rentals. Offer other computer services such as; printing, scanning, typing job, photo printing and more. Sky is the limit, be complete as possible. It is your solid foundation.
Technology evolves faster than light and its endless. Take advantage of it. Be always the first to offer new.