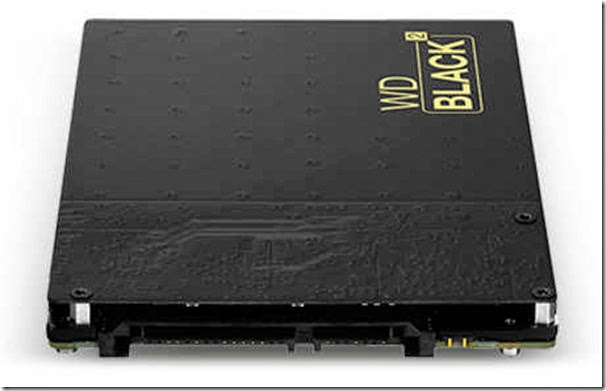 WD Black Duo the first dual drive in the world.
WD introduces the world's first ever 2.5-inch dual drive storage solution. WD Black Duo is a combination of 120 GB SSD (Solid State Drive) and 1 TB HDD (Hard Disk Drive). This is designed to fill the gap between speed and capacity. SSD offers speed, durability (because it is non-mechanical) and no noise (because no moving parts). On the other hand HDD provides a higher capacity and cheaper. Now, you can have both.
WD Black Duo combines the best of SSD and HDD. When you talk about shock and vibration resistance of SSD and the proven technology of the HDD. This gives a highly reliable dual drive storage solution. Plus its intelligent algorithms and advance firmware that can hold heightened performance, resulting in a cooler temperatures with nearly inaudible operation.
For Multimedia users
You can now have a faster PC experience and a bigger storage by installing your Operating System in your SSD as well as your photo editing, video editing, audio mixer and more. While you saved all your finished and raw projects to your HDD.
For Gamers
Forget about partitioning your drive for games and personal data because WD Black Duo did it for you. Install all your games and OS in you SSD for better gaming experience. Let HDD handle your files and folders.
Product Specifications
Interface SATA 6 Gb/s
Performance Specifications
Load/unload Cycles 600,000 minimum
Transfer Rates
Buffer To Host (Serial ATA) 6 Gb/s (Max)
Physical Specifications
Capacity 120 GB SSD + 1 TB HDD
Form Factor 2.5 Inch
Performance Specifications (SSD)
Target Performance
Internal transfer rate (read, max) 350 MB/s
Environmental Specifications

Shock
Operating Shock (Read) 30G, 2 ms
Non-operating Shock 350G, 2 ms
Acoustics
Idle Mode 20 dBA (average)
Seek Mode 0 21 dBA (average)
Temperature (English)

Operating 32° F to 140° F
Non-operating -40° F to 158° F
Temperature (Metric)

Operating -0° C to 60° C
Non-operating -40° C to 70° C
WD Black Duo is ideal for notebook upgrades. For multimedia users and gamers. WD Black Duo is with 5 year limited warranty and at the same time, it provides installation how to and software downloads here.
What do you think about this?