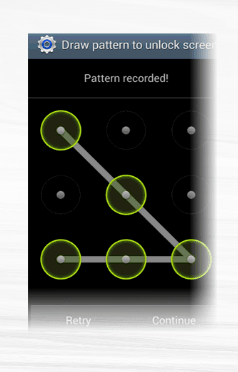 Unlock pattern lock on Samsung Galaxy Y
How to unlock pattern lock on Samsung Galaxy Y? Google's Android is very smart, as what you have noticed, when you first open your brand new Samsung Galaxy it will ask you to sync it with your Google Account.
What do you think is the purpose of Google account synchronization?
First, you will need it in downloading Apps at Google Play store.
Second, it can become as your "knight of the shining armor", if you ever forget your pattern lock.
What will happen if you forget your pattern lock?

Pattern lock helps you protect your privacy by not allowing anyone to access your mobile phone without knowing the pattern lock. However, it can also bring you to great disaster if you forget it yourself. It will make your Samsung galaxy unusable. So, what should you do?
Since you didn't sync your Samsung Galaxy with your Google account or if you did, but also forgot it, we have no choice but to reset your mobile phone. Some call it, hard reset because it will bring back to its factory settings.

First, shut down your Samsung Galaxy.
Press the "up volume key", "Power button" and the 'Home button" simultaneously, until you see the "Recovery Mode Screen.
Using your volume key, move the cursor down to "wipe data/factory reset" and press the "home" to select.
Now, another screen appears for confirmation. Just move down the cursor to "Yes" and again use the "Home button" to select.
There you have it, your mobile phone must reboot to its original settings and you can now access it  without the need of your forgotten Pattern lock.
Hard-reset side-effects?
You will lose all your Apps installed on your Internal memory.
You will lose contacts saved on your phone memory.
You will need to download all your needed Apps again.
Every data saved in your internal or built it memory are gone, but the good news is, everything saved in your external or SD card is still there, including all your contacts that's being saved on it and also to your SIM card.
How not to forget Pattern lock on your Samsung Galaxy Y?
We have no control over it, from time to time as a human being we can easily forget. The best thing you should do is to back-up everything in your your phone especially, your contacts. Sync your Phone to your Google Account to give you a better option than resetting your mobile phone to its factory settings. It will save you time and effort. Besides, it will only take a minute to do it, it's worth it. Don't forget to share your views or experiences with regard to this topic.