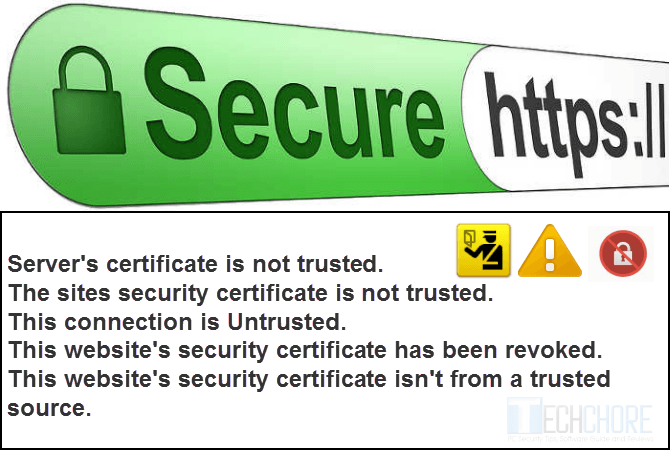 SSL Connection Error
SSL Connection Error. What it is, why Google Chrome and Mozilla Firefox sometimes get SSL error/s? SSL (Secure Socket Layers), from the word "Secure", it's an Internet Security Protocol meant to protect user's privacy while surfing the internet.
Most banks, social media and eCommerce sites use SSL certificate. The likes of Facebook, Twitter, eBay, PayPal, (our very own) Techchore and others also use SSL. This is to protect users or shoppers' personal, financial and other important information. If you observed, the websites I mentioned above used HTTPS (Hypertext Transfer Protocol Secure), not the normal HTTP.
Websites prefixed with HTTPS means that it uses internet secure protocols. The SSL or TLS (Transport Layer Security). Websites using SSL encrypts all sent and received information. Which means it's more secure. Some called it SSL Handshake. But why sometimes you get SSL Connection Error?
SSL Connection Error Types
Your connection is not private.
The sites security certificate is not trusted.
SSL Connection Error and SSL Protocol Error.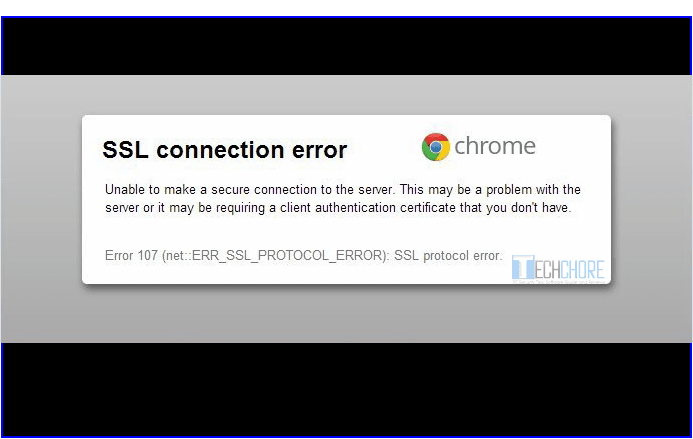 Server's certificate is not trusted.
This is probably not the site you are looking for.
The server's certificate security is not yet valid.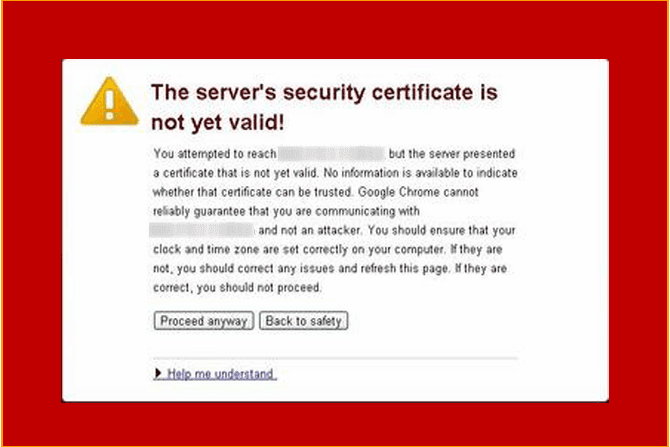 Your connection is not secure.
The above SSL connection error samples are just few from many SSL errors that I personally encountered. There were also "Your clock is behind" and "certificate name and server mismatch". What are the reasons behind these errors?
Causes
Your computer date and time settings is not correct. It may be 2 weeks, month or even years late or advance.
SSL certificate name mismatch, usually its domain name issue.
Untrusted SSL certificate.
The website may contain harmful files.
The SSL certificate is from unauthorized certificate vendor.
Antivirus might be blocking the website's encrypted data.
Firewall issue.
The Browser might be the problem.
Your browser imported all data from old Internet Explorer.
How to fix SSL Connection Error?
How to fix SSl Connection error on Google Chrome, Mozilla Firefox, Internet Explorer, Windows 7, 8, Windows 10 and even in Android OS?
Please note, you need clear all your browsing data (cache, cookies, content licenses and etc..), for the change to take effect.
Fix 1 – Check your Date and Time.
Outdated time settings may cause SSL error. Update your time and date to your current Time zone. It shouldn't be weeks, month or year late nor advance. If your time always reset to years later, change your CMOS (Complementary Metal Oxide Semiconductor) battery. Replaced faulty CMOS battery.
Change your CMOS battery, update your date and time and clear all your browsing data for the change to take effect in your browser.
Fix 2 – Exclude SSL protocol scanning in your Antivirus settings
Your Antivirus may have different description but it's almost the same. Simply go to "Set up" → "Advance setting" → "Protocol filtering" → "SSL" →Do not scan SSL protocol.
Why we are doing this? In some cases conflicts between antivirus and encrypted data is inevitable. If this method solved your SSL error, try to update chrome and firefox, your antivirus and operating system. Clear your browser data and try to enable your SSL scanner again.
If you enable the SSL scanner after updating your browser, antivirus and OS but the problem persist just leave it disable again, only browse trusted websites and contact your antivirus vendor about it.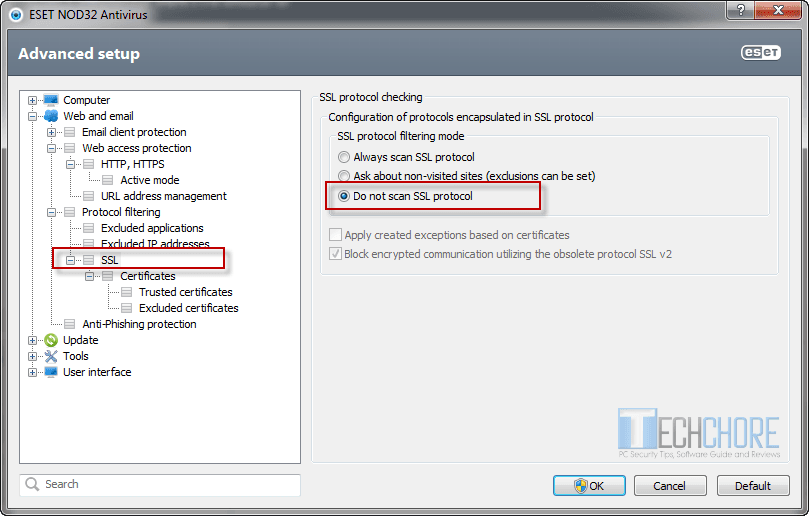 Fix 3 – Google Chrome and Mozilla Firefox Browser tweaks
Clear all browsing data ( cache, cookies, hosted app data and so on). Then restart your browser.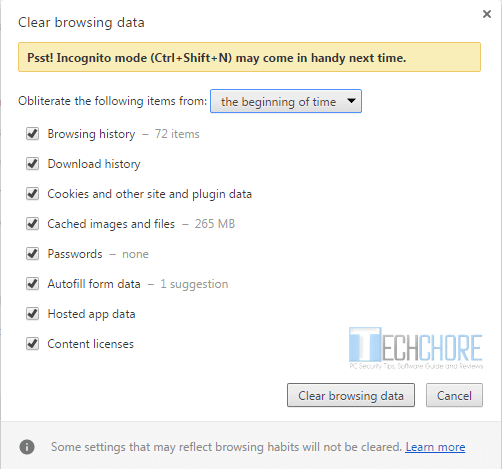 Restore your browser default settings. Restart your browser. If none of this solved your SSL Connection error? Let's try to tweak your browser internet settings.
Navigate to your browser "settings" →"change proxy".
In Security and Privacy Tab, adjust the level to "medium".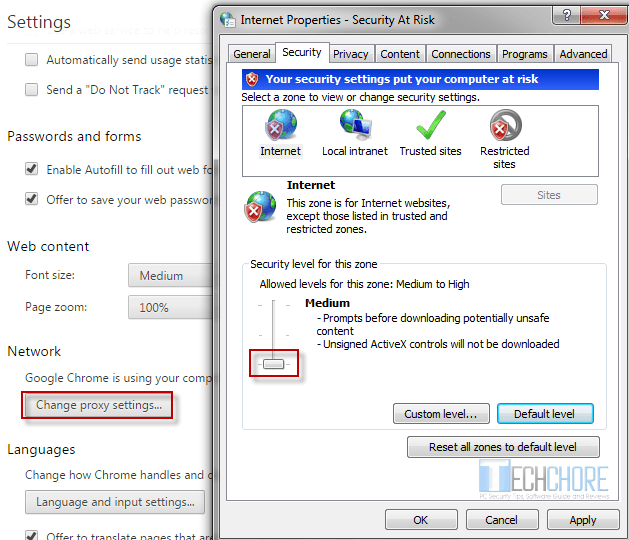 Clear and restart your browser.
Fix 4 – Export and import website's SSL certificate
Click on the "padlock icon" → "details" → "view certificate".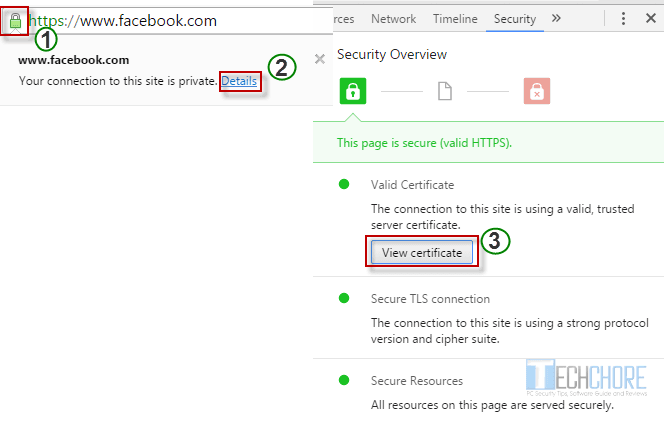 Select the "details" tab → click "copy to file". Follow the wizard up to finish.
In Firefox, you need to follow the same procedure by clicking the "padlock icon". There is no wizard in Firefox but an export feature. Remember where you saved the SSL certificate.
Import the SSL certificate by clicking "option" → "advance" → "view certificates" → "import".
Restart your browser and try if it solved the SSL connection error.
Fix 5 – System restore your Windows in previous date before the SSL connection error occur.
This is what happened to my client's computer. She used Firefox as her main browser, then one of her friend downloaded and installed Google Chrome. However, Google chrome returned the "Your connection is not private error". It makes their mind boggling, she just use Firefox for the main time and called me.
Upon my arrival she explained to me everything that  happens. As I check her computer, her Internet Explorer is still in version 8. I tried to use it and it returns the same error as the Google Chrome every time I visit HTTPS website like Facebook.
In my mind, while in installation process, her friend imported everything from Internet explorer. Thus causes the SSL error.
What I did is that, I uninstalled Internet Explorer 8 , re-installed  Google Chrome but to no-avail, same SSL Connection error problem.
So, I boot the PC to safemode.
Use Windows System Restore and restored the PC to previous date before the SSL error occur.
Uninstalled Internet Explorer 8 and restarted the computer.
Installed Google Chrome and VOILA! SSL Connection Error is SOLVED.
Tips:
If you encounter SSL Connection errors after visiting trusted https website like Facebook, Yahoo, Gmail and Techchore. The problem is at your end, whether your browser or computer configuration. You can apply all the fixes above. But if you only encounter SSL connection error on a certain website. Then, contact its webmaster because it means the problem is on the site's web-server, domain or SSL certificate.
Should you disable or ignore certificate error on your browser?
There were sites that offer this kind of solution that is by ignoring certificate error on your browser. Please bear in mind, that this is not a solution for SSL Connection error. It's just a temporary workaround and I don't recommend it.
Most Phishing websites use fake certificates to fool the users as if they have a secure connection. However, updated browser Chrome or Firefox can detect this one and returns a SSL Connection Error as warning that the site is not secure. These are the common SSL errors you should take heed to:
This website's security certificate isn't from a trusted source.
This website's security certificate has been revoked.
Server's certificate is not trusted.
The sites security certificate is not trusted.
This connection is Untrusted.
So, it is always better to follow only the five SSL Connection Error fixes above. You shouldn't ignore certificate error on your browser. None of the above solution solve your SSL error? A Windows re-installation might help. However, you can always try to scan your computer with your antivirus, system utilities and do a system restore. If you have a Windows back-up image, it would be a better option too.
Do you have any more ideas that will help other users solved their SSL Connection Error problem? Feel free to comment below.