Pros:
Effective against common viruses.
Simple UI (User Interface).
Clean installer not bundled with PUP's (Potentially Unwanted Programs).
Blocks malicious applications (malware & keylogger).
99.9 % compatible with other antivirus.
Light-weight on computer system.
Offers a 5 G cloud storage via Lock Cube.
Cons:
The real-time protection needs improvement.
It allows malicious software to enter your device before it is blocked or deleted.
Notifications colors are bit confusing.
Anyone can disable it because it has no password protection.
Not good against Phishing (0 out 5).
Cannot detect keylogger running on a background though it can block keylogger installation but because it has no password protection anyone can disable it and install keylogger.
It does not delete remove malware automatically. It needs user intervention.
NOTE: SecureAplus is focused on blocking malware and PUP's. We just test it against phishing site to raise our reader's awareness that they need another security product for that purpose. Remember, SecureAplus is a FREE antivirus, we cannot expect and it will be unfair to compare it with premium antivirus.
SecureAPlus, what it is? Chances are, most of you haven't heard it yet. It's a new antivirus player developed by a well-known enterprise security provider, Secureage (Developer).
SecureAPlus is a cloud-based anti-malware, compact with 12 cloud antivirus engines such as; Eset, McAfee and Bitdefender, just to mention a few. It uses the block-first approach, as initial way of blocking a virus. Any software or application that Digital Signature is not included in the Trusted Certificate List, will be blocked. Which is very effective in protecting your computer from any malicious software.
Is SecureAPlus effective? Is it worth trying?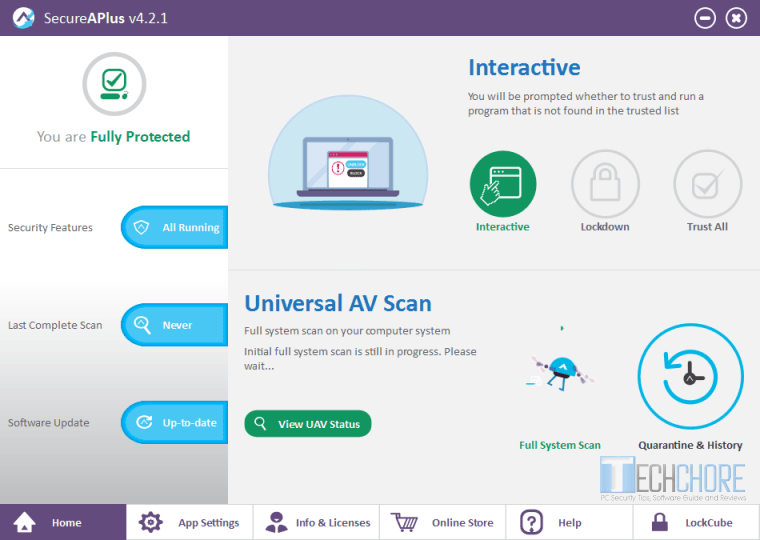 SecureAPlus is powered by multi-antivirus engines but it does not mean that we can jump up into a conclusion that it is effective. Am I right? The only way to know its effectiveness, is to try it on-hand. So, we downloaded it, installed in our system and observed how it works. Below are our stage by stage review from installation up to actual testing results.
SecureAPlus Actual Testing on its effectiveness
Against Virus
First, it failed to detect the EICAR antivirus tester file. I was able to download the file and extract it in my computer but the good thing is, when I tried to open it, it was blocked.
Against Malware
SecureAplus has a perfect score against malware. Even though it allows the malware to be downloaded in our computer system but SecureAplus prevents any of it from running. All malware are blocked.
Against Phishing sites
It is 0 out of 5. It is understandable, SecureAplus is not an anti-phishing software rather, it is a good anti-malware.
Against Keylogger
It can stop or block keylogger installation but if there is already a keylogger in your computer SecureAplus find it hard to detect.
CPU and Memory Usage
Working set  (110,492 K) Private bytes (357, 028) CPU (.65 – .75)
NOTE: The CPU & Memory usage is just approximate it does not necessarily the actual numbers. It is given as FYI (for your information) only. To help you, in a very least, gauge how much resources it takes from your computer system.
SecureAplus Actual Testing Video
SecureAPlus Antivirus installation

Download SecureAPlus OFFLINE installer. It's FREE!
The installer is clean from any PUP's (Potentially Unwanted Program), as we all know, most free antivirus of this days are bundled with PUP's — but SecureAPlus is not one of them.
SecureAPlus antivirus installer has a size of 149 MB for No-offline AV installer and 192 MB for full installer. It's quite big for a cloud-based antivirus. However, the installation process will only take a minute which I considered one of the fastest in the market.
SecureAPlus Features
SecureAPlus antivirus User Interface is very simple, easy to navigate and to understand. It will not take so long to familiarize its features and settings.
In its "App settings" you will see the four (4) tabs namely;
Universal AV – This is where you can customize the AV engines, enabling or disabling each.
Scan settings – Turning on/off — of the three (3) most important features of SecureAPlus can be done here, such as Offline Antivirus, Universal AV and Real-time Scanning. The exclusion and inclusion feature are also found in this section.
Application White-listing – If you need to white-list certain application, you can do it in this tab. Simply navigate to Whitelisting Basic, Advance and Command-line settings.
Others – In this area you can set your software update, virus signature and proxy settings as well as your "Notification" and "User rights".
Compatibility with other antivirus
SecureAPlus is more on application prevention though it's also a virus scanner. What does it mean? Incompatibility with other security software will never be an issue. I tried it with Avast, Bitdefender Internet Security and Eset, no issues so far. My PC still run smoothly and seamless, as if, I didn't installed any other antivirus. Take note, I installed each antivirus respectively, while it is still running a scan. Indeed, it is really lightweight and a good compliment with your already installed antivirus.
Lock Cube
Lock Cube isn't a feature of SecureAPlus but it is a free cloud service provided by Secureage. There is a link located at the bottom-right of your SecureAPlus UI, just click it to register and avail the 5 G cloud storage.
Verdict
SecureAPlus's real-time defense is not yet as good as their counterparts. It allows the threats to be downloaded or copied before it takes action. Although it was able to protect your device by containing the threats, making sure that it will not get executed. However, preventing virus from entering your device is better than deleting the virus inside your device.
I also found notification messages or prompt box confusing, it uses the red color for "Unblock & trust" and green for "Continue Blocking". Personally, and by experience the red should be used for blocking the threats and green for allowing it. On the other hand, the quarantine, delete, ignore and ignore permanently option, all shared the color blue though with different icons. I would suggest to make the delete (red), quarantine (orange), ignore (blue) and ignore permanently (green).
All in all, SecureAPlus is promising, with just a few tweaks maybe in its coming updates, surely, it will become as one of the best free antivirus. The blocking power is almost perfect, they just need to work on threats prevention. For now, it is a very good compliment with any antivirus of your choice.
How about you? Share us your experience with SecureAPlus, by just leaving a simple comment (s) below.
SecureAPlus latest version
Effectiveness Against Virus

Malware blocking

Malware Removal

Phishing Protection

Keylogger detection

CPU & Memory Usage

Compatibility with other Security software