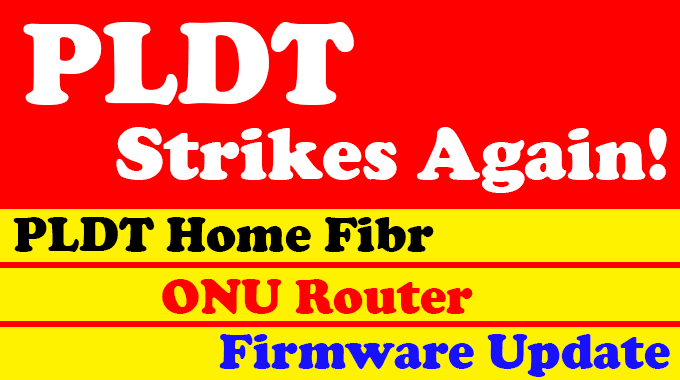 PLDT Fibr router Firmware update. I received a lot of comments on my previous posts 15 new default PLDT password and usernames and 8 easy steps to access PLDT Fibr ONU router, that PLDT updated their router firmware again and the Fibr default passwords have stopped working. So, I checked it myself and it turned out to be true!
My previous PLDT Fibr ONU router software version was RP2627 and now it became RP2631. It simply means that, indeed, PLDT has updated the ONU router firmware.
Now, all of us will go back to basic admin as our way to set our router settings. The advance settings which can only be found in "adminpldt" are gone. As of this writing, I can no longer access the adminpldt account.
PLDT Fibr router Firmware update: RP2631 changes

These are only my personal observation and solely based on PLDT Fibr router basic admin settings:
admin & 1234 (username and password) basic admin settings are still accessible. Which means you can still change your WiFi passwords, disable/enable your WPS, enable another SSID and soon.
Your previous WiFi password remains the same. The update did not reset the WiFi password you've set before the update.
The I.P. address of the router is still 192.168.1.1 unless you made changes yourself.
The I.P address of the adminpldt account remains the same 192.168.1.1/fh.
If you changed the adminpldt default password with your own password, the recent update did not change it, like your WiFi password. It remains the same and you can still use it if you will sign the waiver.
PLDT blocked or change the "fiberhomesuperadmin & sfuhgu" super admin access.
The WEB ADMIN SWITCH is disabled.
Maybe the update also changes the default password for Fibr Onu router but the username (adminpldt) is still the same.
When I tried to access the adminpldt using 192.168.1/fh and username "adminpldt" with my personal password it says, "admin account unavailable". That's why I made a conclusion that the URL, username and personal password remains the same despite the update. The problem is we can no longer enable the "web admin switch".
What can we do? We have two (2) options
The first option is to sign the PLDT Waiver to regain your adminpldt access but read it carefully before signing. I will be sharing you on how to do it on my next posts.
The second option is to buy a third (3) party router like TP-link, Dlink and so on. If you choose the second option, signing the PLDT waiver will be unnecessary.
PLDT Fibr router Firmware update: Which is better?
If you want to save money or you don't want to spend a dime for extra router and admin features then signing the waiver may be a good option. The most affordable router that I bought for my clients ranges from P 900.00 to P 1K.
If the price or money is not an issue for you, buying a router is a way better option you should take. The advantage of having a 3rd party router includes more features than the PLDT ONU router and you are not obliged to sign the Waiver.
What can you say about this update?
Hayzz! Well, I don't think that we have a choice here but to follow their guidelines and new policy. I just hope that they are doing all of these for the sake of their subscribers. Yes, I know that this update will make our life a bit harder but if we look beyond that discomfort, we may see a better security.
I know that not all those people who want to know the PLDT passwords are PLDT subscribers a great number of those are WiFi hackers. What is your opinion about this recent PLDT Fibr router firmware update?