MalwareFox  Anti-Malware Effectiveness
Malwarefox is gaining popularity recently. So, we decided to test Malwarefox anti-malware. To do that, we will put the program against various kind of malware to check its detection rate. Moreover, we will also see whether it causes any performance issue on computer.
This changes today where I'll perform a full test on a Windows 10 virtual machine. The testing goes as follows, first, we'll look at what MalwareFox promises to offer and then we'll put it to the test.
Download Malwarefox Anti-malware
All in all, MalwareFox promises to offer.
1.    A lightweight Anti-Malware.
2.    Real-Time Protection.
3.    Zero-Day Attack Protection.
4.    Adware, Spyware, Ransomware protection along with protection against browser hijackers.
A small explanation for each one of them will be provided down below.
Real-Time Protection
Real-time protection is a feature that enables the Anti-Malware to actively monitor every piece of data that goes through your PC for analysis, if any malicious behavior is detected in a program, then that program will never be able to reach you.
The difference between that and the classic scan-detect-remove pattern, is that for the second one the virus must first get inside your PC in order to get removed, that does not happen with real-time protection. With it, a virus will never be able to reach you at all.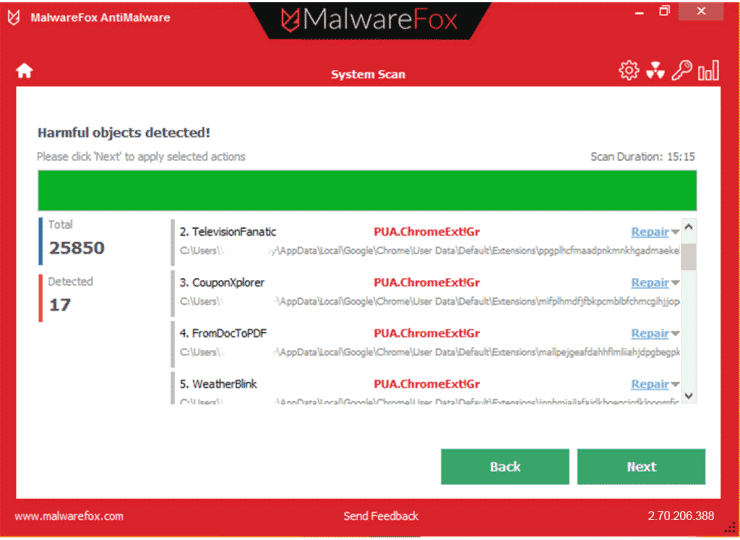 Zero-Day Attack Protection
Zero-day attack is the exploit of a security leak that is yet to be patched from the developer. The Zero-day protection is a feature that uses behavioral analysis system to look for threats like this that are yet to be discovered and offers protection from them.
Adware
Adware is a type of malicious program that displays ads directly or indirectly without your approval and it usually can not be removed by normal means.
Browser Hijacker
A browser hijacker changes your browser's settings and makes it so that you won't be able to change them back to the defaults. A common practice of browser hijackers the replacement of your search engine with a fake one that displays spam/scam search results, another one is the persistent redirection were you'll be redirected to a certain page with no regard as to where you'll click at.
Spyware
A Spyware is a type of malicious program that steals your information, from your social network login credentials, to your credit card information. It can be absolutely hidden or disguised on display as some sort of adware or even a legitimate program.
Ransomware
The Ransomware virus is considered one of the most dangerous viruses to ever exist. It encrypts all of your files and asks for a payment to decrypt them.
Time for MalwareFox to be tested.
Resources Test
MalwareFox promises to be lightweight which is important for a security program, so the first thing to be tested is its resource consumption. I used a PC that has an Intel Core i5 CPU and a 120 GB SSD for this test.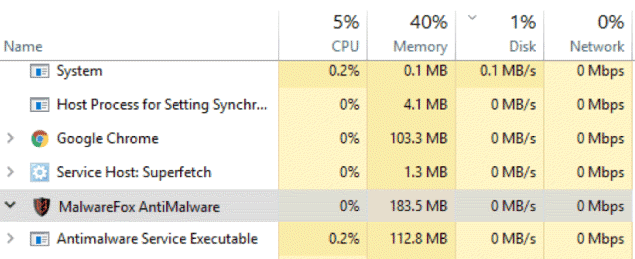 The CPU usage of MalwareFox sitting at idle with real-time protection, was 0%. Yes you've read that right, MalwareFox works without taking anything at all.
But, while scanning, the CPU usage sky-rocketed to 100%. That was a surprise. But another one followed right after it, a full scan was finished in a bit more than a minute. That's it, only one minute to perform a full scan on a 120 Gb SSD that contained 60 gigs of data.
In overall, while MalwareFox is scanning, the PC will not be usable. But only for a minute.
MalwareFox took anywhere from 80 to 354 megabytes of RAM..
Real-Time Protection Test
For real-time protection, I used the famous EICA test which is considered basic for a great number of malware hunters.
MalwareFox was able to detect of the test viruses before they could get inside my computer except two that were taken care of by Windows Defender. Keep in mind that MalwareFox is supposed to work together with an Antivirus, be it Windows Defender or anything similar.
In overall, the real-time protection test is a success.
Zero-Day Attack Protection Test
For this test I used on purpose old versions of Java and Adobe Flash Player as they were two of the most famous targets for security exploits, probably because of how many people are using them.
All I had to do was leave both of these programs at the "always active" setting and browse some shady websites which I won't mention for obvious reasons.
I used 5 websites for this test, every single one of them tried to exploit the leaks of Java and Flash and they all failed. If something managed to bypass MalwareFox defenses, then it was not noticeable.
I also performed a full scan with Malwarebytes after that and it didn't detect anything at all, so I can suppose that the Zero-Day Attack protection was a success.
Adware Protection Test
I used 10 known adware programs for this test, two honorable mentions are CoolLyrics and CouponAlert.
MalwareFox managed to remove all of them without any problems at all. The adware test is an ultimate success.
Browser Hijacker Test
Once again, I used 10 browser hijackers for this test. All of them were removed without any problems except two of them, 7Search and AdoreSearch. I contacted support and they told me to try again from safe mode which worked.
So the browser hijacker test is also a success.
Spyware Test
And again, I used 10 Spyware programs for this test. Huntbar and Cydoor are two honorable mentions as they are somewhat famous.
All of them were removed without having to take any extra actions. This is a success.
Ransomware Test
I only used two Ransomware for this test as their removal proves to be a tedious task and I don't want to risk any one of them encrypting files out of my virtual machine.
I used Cryptolocker and the Locky ransomware for this test. The viruses were removed, but my files were not restored. I once again contacted support, they explained to me that MalwareFox is an Anti-Malware, not a decryptor or a file restoration program and that I should have real-time protection on (I had to turn it off to execute the tests).
Even still, they provided me with a decryption program which helped me restore some of my lost files.
I tried infecting my computer again while keeping real-time protection on, and the viruses never managed to get inside.
So, the ransomware test is a success. Just keep real-time protection on.
Conclusion
MalwareFox managed to keep all of its promises and prove its worth, every time that something went wrong, the technical support would help us through it. To conclude, MalwareFox is now a proven Anti-Malware option.