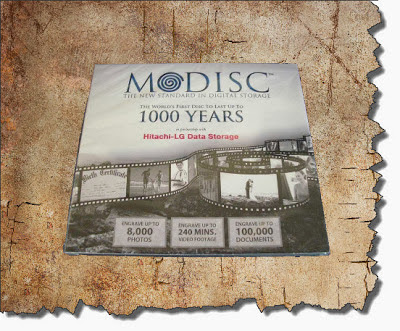 M-DISC stores your lifetime that will lasts up to another 12 lifetimes
In todays digital world, we capture our every moment and share it with our families and friends whether it's photo's, data's and other form of files. We are also keen of storing most of it for future reference or just for remembrance. However, the fact remains that we cannot do that especially in digital forms. Someway or another, time will cause all of those to deteriorate but thanks to M-DISC technology, it's another milestone, you can now save your important data and rest assured to last up to 25th of your generations.
It  is like engraving your memories in stone. Like what our ancestors did 10 thousand of years ago. We all know that it was used as reference in history and even in scientific conclusions. M-DISC is designed that way to make your legacy last forever.
It will stand the test of time unlike other traditional DVD's it is resistant to extreme conditions of light, humidity, temperature and more. It passes rigorous testing by US Department of Defense. It also completed the full ISO/IEC 10995 Standard Test Program.
Compatibility
M-DISC is compatible among leading OS's such as Macintosh, Microsoft and Linux. It is readable by regular DVD drives and has a capacity of 4.7 gigabytes. Any third party software can burn data to M-DISC.
Disadvantages
Burning your files to M-DISC is permanent cannot be erased anymore. Only M-DISC ready DVD drive can burn your data to M-DISC. M-DISC is in DVD form only.
M-DISC Testing proof:
Download PDF
Where to buy?