Keepvid free online video converter
Keepvid free online video converter is a Free online video converter that can easily convert video and audio files in no time.  The good thing about this is it's 100 percent free. How easy it is to convert media files?
Simple as visiting and browsing a website. All you need to do is to visit www.keepvid.cc, upload the video or audio that you want to convert and select your desired output format and click the "convert now" button. Wait until the conversion is done. That's how easy it is to convert a video with Keepvid Online video converter.
Features
Keepvid Online Video Converter is capable of converting Videos and audio to:
Video – Mp4, Avi, WMV, MKV, MPEG – 2, MOV, DIVX, DVD-Video, Xvid, MPEG – 1, 3GP, YouTube Video, HEVC MP4, M4V & HEVC MKV.
Audio – MP3, WAV, WMA, M4A, AAC, FLAC, AC3, AIFF, M4R, M4B, AU & APE.
HD Video – HD MP4, HD AVI, HD WMV, HD MKV, HD MPEG 2, HD MOV, HD DIVX, HD Xvid, HD MPEG-1, HD YouTube Video, HD HEVC MP4, HD M4V & HD HEVC MKV.
SD Video – SD MP4, SD AVI, SD WMV, SD MKV, SD MPEG 2, SD MOV, SD DIVX, SD Xvid, SD MPEG-1, SD YouTube Video, SD HEVC MP4, SD M4V, SD HEVC MKV &  SD 3GP.
Devices – iPhone, Samsung, Huawei, HTC, Google, Mi Phone and Android.
How to Convert Video and Audio with Keepvid Online converter?
1. Visit www.keepvid.cc, add a file from your computer, Select the type of the file, choose the output format and click "convert now" to start the conversion process.
2. Wait while the video or audio you select finish the upload process.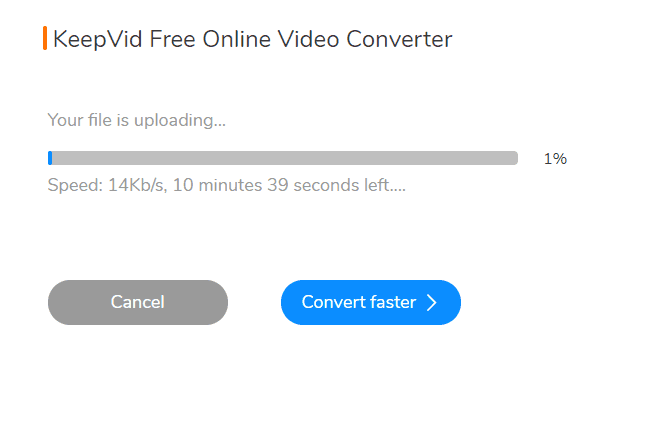 3. If everything goes well, you will be prompted that the conversion is finished as you can see in the image below.
4. The next thing to do is to download the converted files. And you can now use it or play the converted video or audio file. The below image is the MP4 video format was converted into WAV file format.

Keepvid free online video converter limitations
The free online converter can only convert videos or audio that is not more than 100 MB per file.
The conversion process is internet dependent. If you have a slow internet connection, the conversion is also slow. But if you have a good internet speed the conversion is also fast.
Have you tried the Keepvid free online video converter? I would love to hear from your experience about it. You can share your views on the comment box below. Do you think it's a great alternative for free software video converter.