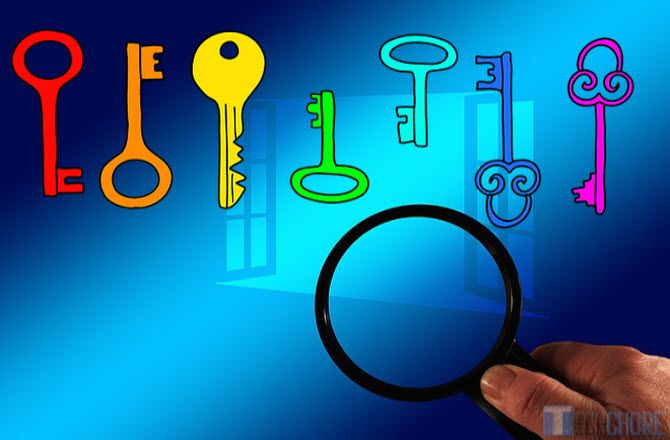 Where to find your Windows product key?
Why should you care about Windows product key in the first place? Well, most people don't. They will only care when inevitable things happen. Like what? When their computer or laptop has been infected by virus or operating system got corrupted and PC hardware failure started to occur.
What then? It's plain and simple, an Operating system or Windows re-installation might be needed to get the computer working again. Upon installation a genuine Windows product key is needed. If you don't have it, it's a big headache. So, where to find your Windows product key?
On Desktop Computer
Get your Windows product key, before it's too late. I prepared a photo that listed all possible locations of your COA (Certificate of Authenticity) from where your key is listed. Take a look at below.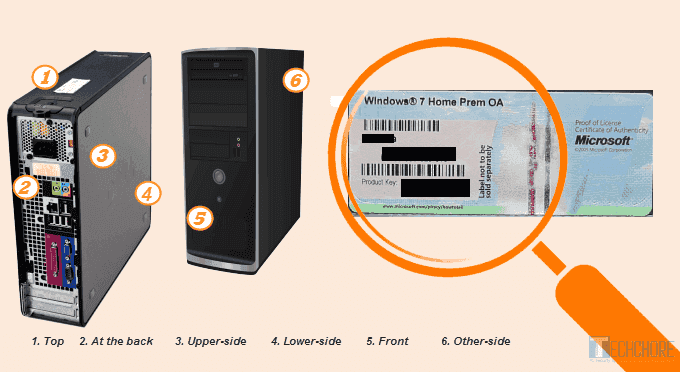 The above image are just possible locations based on my experience. It's not limited to that area, it may vary depending on your  Desktop computer manufacturer.
Note: New computers that's using Windows 8, 8.1 and later don't have a COA sticker on it. The Windows product key is embedded into BIOS or UEFI (Unified Extensible Firmware Interface) for newer motherboards.
On Laptop Computers
How about in your Laptop and Netbook? The only area that I find Windows product key hard to locate on Laptop is inside its battery compartment. Aside from that it's totally visible. If you don't see it on your touchpad area, simply turn your Laptop upside-down (with care) to see it.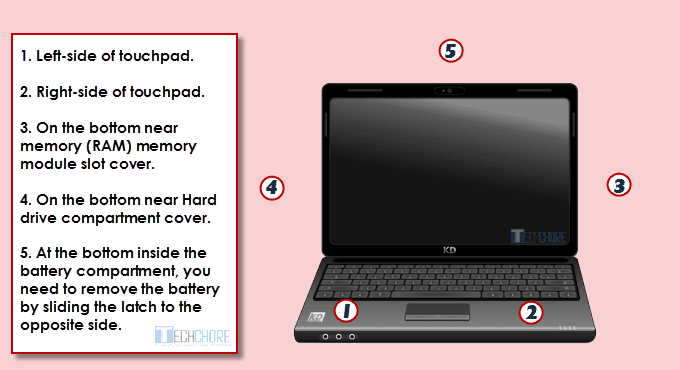 What if you don't see any COA stickers or lost it?
If you are a Windows 8 user you don't need it, please refer to my note above. For Windows 7 and backward users, perhaps the sticker just wear-out. But don't worry, we have a solution to that particular scenario.
How to find/retrieve lost Windows product key?
Download this tool

After downloading the VBS tool above, extract and run it.  Sometimes you need to run the tool by right-clicking → "open with" → "Windows Based Script Host". Then you will be prompted by a message box that contains your product key. While the box still open, simply press CTRL+C → open a "notepad" → and press CTRL+V, to paste your product key.

The other useful tool that you can use is the Magical Jelly bean Key finder. An installation is needed for this to work. The advantage of this tool , it can also list your Microsoft office product key and other software that is being installed in your computer system. Unlike to VBS file that will only retrieve Windows OS key.
Download Magical Jelly Bean Key Finder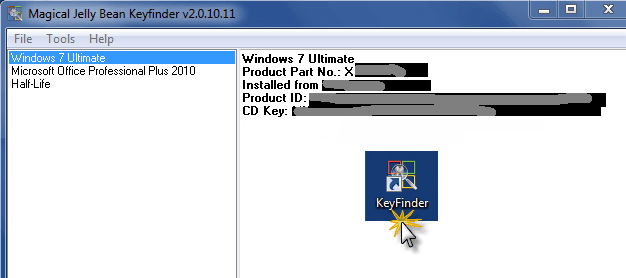 It is also lightweight and easy to install. When it is installed, just run it, you will see like the image above, it detects the product keys of Operating System, Office and Game.
What if you cannot boot your Windows anymore?
It's a big problem but there is also an easy solution to that. It's the Nirsoft software, it works almost like the Magical Jelly Bean but no installation is needed. The best thing about Nirsoft, it has an option to scan or load product keys, not just in your PC's hard drive but from any drive attached internally or externally.
Download Nirsoft Produkey

Since you cannot boot your OS anymore, detach your hard drive and plug it to working PC. Extract your downloaded Nirsoft Produkey → run the tool → select source → load the keys from your local computer and click OK to retrieve your product key from all attached drives including your unbootable hard drive.
Can you really use the Windows product key that you just extracted?
The answer is both YES and NO. Yes if you have a retail license and in most cases NO if your license is OEM (Original Equipment Manufacturer).  To prevent or mitigate software piracy, almost all PC manufacturers used the SLP (System Locked Pre-installation) technology.
What does it mean? The Key you extracted using any of the tool above is not the same as what's on the COA sticker. If you insist to use it during Windows installation you will likely get an "invalid product key error". You need to contact your PC's manufacturer. Explain your situation. The chance that they will help you is slim, but it is still worth trying. You may also refer to this discussion here.
How about Pre-installed Windows 8, 8.1 and 10?
How to find or retrieve embedded Windows product key from BIOS or UEFI? When you buy new computer or laptop that is pre-installed with Windows 8 and later, you will not see any COA sticker on it. Instead, what you will see is a  Windows 8/8.1 or 10 logo.
This is another move by Microsoft to lessen or eventually eradicate piracy. Which of course has its own advantages and disadvantages. The good thing about this new method is, you don't have to worry about worn out COA sticker. You can re-install your OS without worrying about your product key, as long as you are using the same Windows edition (8/8.1/10, pro, enterprise).
However, if you broke your motherboard, it means "Sorry", you have to buy new license for your new motherboard. Perhaps, the only exception is if you have to RMA (return merchandise authorization) your board.
Anyway, let's just hope that nothing bad will happen. It is always wise to get a copy of your Windows 8 or 10 license key. You do not know, certain issues may occur that might require you to enter your Windows product key. So, here are the tools that can help you retrieve your BIOS/UEFI embedded keys.
Windows 8 product key download here.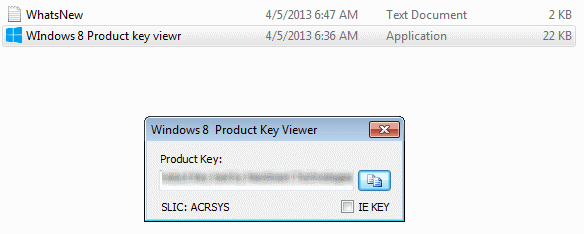 Firmware Tables View download here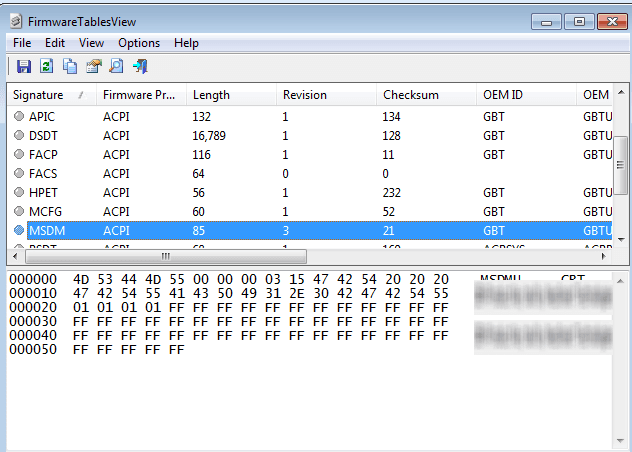 Windows OEM Product Key Tool download here

Note: Some antivirus may detect some of the tools above as virus. So, you better white-list or exclude them from your antivirus real-time protection, to avoid false positives. 
I hope that this guide and the tools provided, may help you find your lost Windows product key. If you have any idea that can help us find lost Windows product key in much easier way. Please share it with us, just drop a comment below. It will be highly appreciated.