Facebook is the most popular social media platform, with 2.7 billion active users each month. Everyone is using it, from children to Senior Citizens. However, in rare cases, Facebook may encounter loading problems that might leave its users getting upset.
The most common problems are: images are not displaying, it loads very slow, and the site's design is messed up. So, what causes those Facebook loading problems?
It could be your computer time settings, browser extensions, third party software, antivirus software or your PC might be infected by a virus. But don't worry, you are in the right place, and you are in your way to solve your Facebook loading error. Follow the easy steps below.
Hot Topic:  Facebook Account hacked. What to do?

Update: March 13, 2019, | Facebook is down in some areas of Europe, America, Asia, and other parts of the world. Facebook users, as of this writing, will find it hard to log in and update their Facebook status. WhatsApp and Instagram suffer the same issue. Many believed that it's a DDoS attack, but Facebook said it's not a hacking issue, and they are doing everything to restore the largest social media site.
As of ( March 13, 2019) UTC +08:00 Some users are now able to access Facebook, it seems gradual restoration is in effect. So let us wait until it is finally be resolved.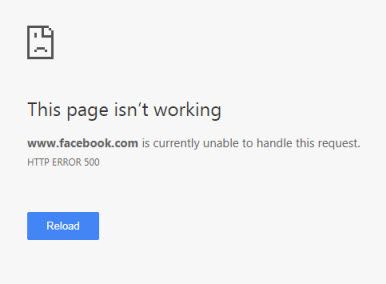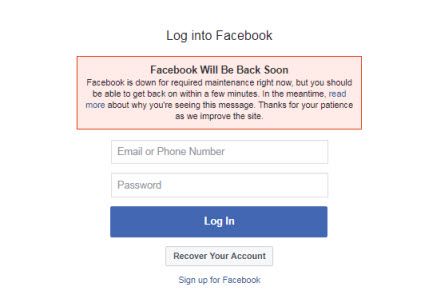 Facebook loading problems mentioned above are prevalent among Facebook users. However, sometimes, Facebook has nothing to do with it. The problem might be on Facebook user's computers or gadgets.
Possible causes
Incorrect time settings will lead Facebook not to display correctly. In my experience, if your computer time and date are one (1) week later, Facebook won't load images properly even if you have the fastest internet connection and excellent computer specification.
This fact is often overlooked even by the system administrators. So it's worth looking into this issue first before proceeding into another possible reason for Facebook display problems.
So many Browser add-ons and extensions
Browser add-ons help make your surfing experience a whole lot easier. However, too much as always is not good. It can cause Facebook not to work correctly in your browser.
Choose only add-ons from trusted sites and the one that is useful for your tasks. Keep in mind that some browser add-ons are the source of phishing technology that will not only harm your Facebook experience but as well as your privacy.
Software is causing Facebook not loading properly problem
Facebook loading issues, is sometimes due to Security Software such as Antivirus and Internet Security.
Check your Antivirus, especially if you are using Internet Security software. Make sure that the Facebook website is on your Internet Security exclusion list.
Why does Security software sometimes block Facebook?
It's what we called False Positives. Security software was programmed to do things according to how it is being scripted. We have to understand that the one who coded it is human, and human sometimes makes mistakes.
The Exclusion list is what we called safety net for Antivirus in case it reacts differently towards trusted or a legitimate Website or software, and Facebook is one of it.
Browser cache, cookies, and temporary files
Facebook not loading properly is sometimes caused by cache and temporary files.
Most browsers use cache, cookies, and temporary files technology to improve the user browsing experience. It stores data for easy retrieval in case the user asks the same content. However, there are times that they encounter problems. Thus, displaying website content can be affected.
In this case, you have to clean or clear your browser's cache and temporary files. Usually, after clearing your cache and temporary data, your Facebook must display correctly now. Nevertheless, if the problem continues, check the below additional information.
Facebook not Loading may cause by Virus attacks
One of the reasons why your Facebook, loads slowly and cannot display correctly is the virus. Browsers are an easy target, a simple download or visit to any malware-infected websites; your browser can acquire a computer virus. Then it starts to change your browser settings to its advantage, and you are unaware of it. After a while, when you are trying to log in with your Facebook account, all you can see are texts, no pictures, even the Facebook button isn't colored.
In this case, download Malwarebyte's latest version, then install it If you are having a problem installing it see this How to fix Malwarebytes runtime errors. Run the update and scan your computer. To make it safer, uninstall your browsers. Download the latest version of  Google Chrome and Mozilla Firefox and install, respectively.
There you have it; you can now log-in to your Facebook without loading and display problems.
Update: 2018
The recent problem occurs with some Facebook users. Every time they load Facebook in their browser, it displays encrypted text. It is due to Facebook turning on Brotcoli encoding. Due to that issue, most Kaspersky Internet Security users encounter Facebook display error. As a temporary workaround, it is advised to turn off "Privacy Mode" via settings temporarily.
Fortunately, this issue is already solved.
What if Facebook still won't load after following the steps above?
Chances are, Facebook servers are DOWN. Yes, it can happen anytime, even to gigantic and popular websites like Facebook — nothing is invincible in this world. So, what to do? You have to wait a couple of minutes and try to revisit it if it's now loading properly. Usually, you will see an error or notice, as shown in the image below.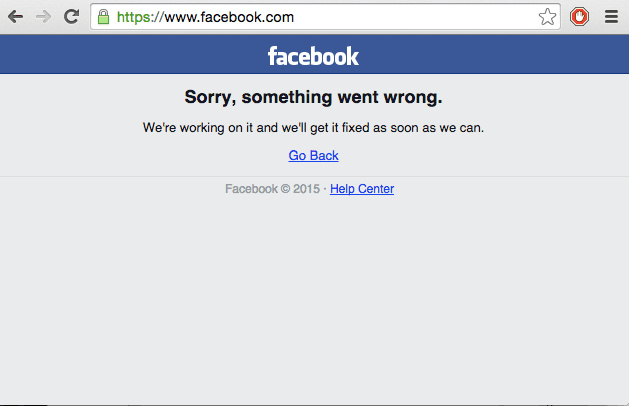 Do you have any smarter ideas or experience in solving Facebook not loading properly problems? Please share it with us.