Eset Nod32 Antivirus 9
Pros:
Eset Nod32 9 is effective against viruses.
Blocks malware effectively.
Very effective against Phishing.
Detects & removes keylogger installation.
It detects and blocks possible PUP's.
Fast and does not slows down your computer.
It has only 2 system processes.
UI (user interface) is easy to understand.
Cons:
It needs to improve keylogger detection on a background. If without user intervention, it takes sometime to detect keylogger on a background.
On our synthetic virus testing it was able to detect only 8 out of 12. But it is understandable because our virus tester are not harmful. On real virus, it's merciless.
Sometimes it detects other antivirus installer as virus (false alarm). Although it is very seldom.
Download ESET NOD32 Antivirus 9 OFFLINE/STANDALONE Installer 32 bit & 64 bit
ESET NOD32 Antivirus 9 against VIRUS
It's 8 out of 12 on our synthetic testing. Given that our virus tester is harmless that might be the reason. However, on a real world, compared to other antivirus it performs well.
Why did I say that? I installed different antivirus on my client's computers and those computers that has ESET NOD32 Antivirus 9 remains virus free. The others got infected with common viruses such as shortcut virus.
ESET NOD32 9 against MALWARE
Eset NOD32 Antivirus 9 was able to detect and block 9 out of 10 malware before it enters your computer via download. Most of the time users are unaware that their computers are already infected by different types of malware. Because it works or install itself silently but with ESET NOD32 90% detection rate or above is more than enough to protect your PC.
NOD32 9 against PHISHING
I never expected that NOD32 antivirus 9 will have a 100% detection rate against Phishing sites. It's seldom to see a security product or antivirus scores a 100 percent. Nevertheless, ESET NOD32 antivirus 9 accomplished that.
I know how serious phishing is, it may cost anyone his/her fortune. It's the most use and effective trick that scammer/hacker used. So, if you are an online shopper and if you are fond of online banking ESET NOD32 may be your best bet.
ESET NOD32 Antivirus 9 against KEYLOGGER
It detects and stops keylogger installation. However, if someone disable ESET NOD32 9 and install the keylogger, then that's the problem. Although, after sometime maybe minutes or hours, eventually keylogger will get caught by ESET NOD32 9. But with that span of time, it already transmitted important or confidential records from your computer.
The best thing you should do is to password protect ESET NOD32 9. If ever, you leave your computer for hours or day, be sure to update and scan your computer first with ESET NOD32 9 before using it.
System resources
ESET NOD32 only has 2 system processes. It's very light on the system, so far it will not cause any computer freezes or not responding error.
FEATURES
ESET NOD32 Antivirus 9 has almost the same features that of its predecessor. Like, ESEt SysInspector, Scheduler, Eset SysRescue Live, Running processes, Protection statistics, Watch activity, Quarantine and Submit sample analysis.
What's new with ESET NOD32 9?
In terms of effectiveness, as always ESET NOD32 keeps on improving their product in every new release. New versions and updates mean new virus signatures, databases and a more efficient detection rate.
How about its UI (user interface)? The only thing that I take notice is its "settings". The "Computer settings" before consist of six tabs;
Real-time system protection.
Document protection.
Removable media protection.
HIPS.
Gamer mode.
Anti-stealth protection.
Now it is called "Computer Protection" with 4 tabs;
Real-time system protection
Device control.
Host Intrusion Prevention System (HIPS).
Gamer mode.
The "Web and email settings" that has three (3) tabs has also changed. It is now "Internet protection" with same 3 tabs and also with the same description.
Web access protection.
Email client protection.
Anti-phishing protection.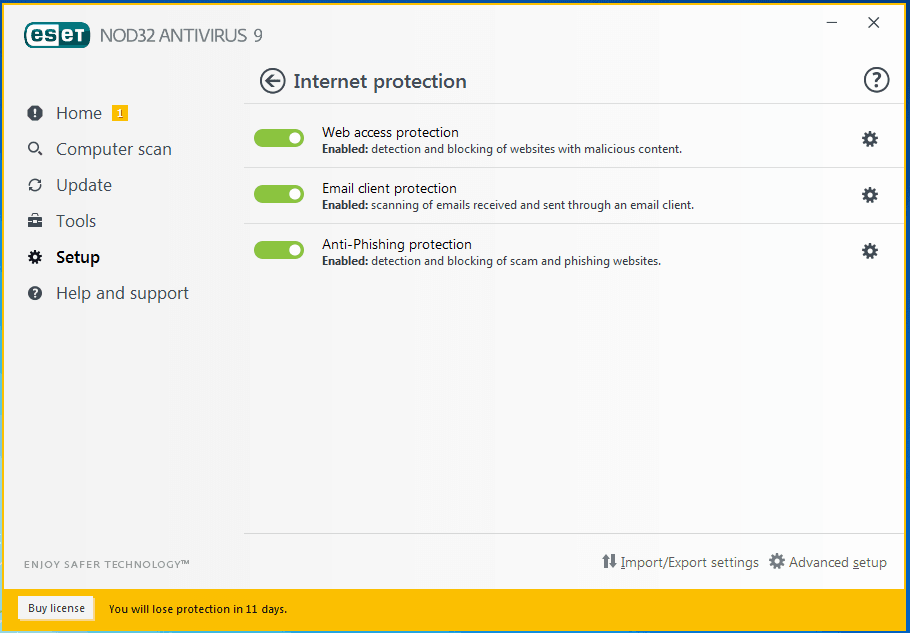 Verdict
Eset NOD32 Antivirus 9 is a solid and sophisticated antivirus, no wonder it is considered as on of the best antivirus in the world. The Threat detection is above average, false alarm is almost zero and compatibility with other security software is also good.
Perhaps, the keylogger detection that runs on background is the only thing that needs improvement. It should be the primary target of background scanning to detect as fast as possible.
As always, we at TECHCHORE believed that commonsense is still the best defense against offline and online threats. However, with ESET NOD32 9, it's a great help in case we forget to bring our commonsense 🙂 . Commonsense plus ESET NOD32 Antivirus 9 will help you get protected by 90%.
What can you say about ESET NOD32 Antivirus 9? Any experience you want to share? Positive and negative experience is highly appreciated.
ESET NOD32 Antivirus 9
Effectiveness Against Virus

Effectiveness Against Malware

Phishing Protection

Keylogger detection

System Resources