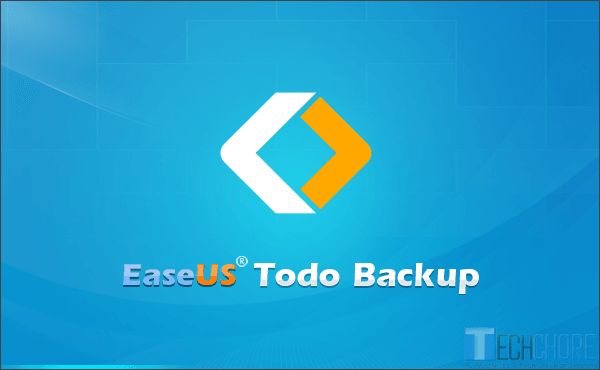 Pros:
EaseUS Todo Backup 9.1 rich in useful features
Not bundled with any PUP's, the installer is clean.
Anyone can create and export WinPE easily in just a matter of clicks.
PreOS feature is brilliant it can easily recover or repair corrupted OS.
Cons:
The PreOS is very good but it lacks the file transfer capability. You cannot copy and paste your files from one partition to other one.
Download EaseUS Todo Backup 9.1 FREE OFFLINE installer
Download EaseUS Todo Backup 9.1 Home OFFLINE installer
EaseUS Todo Backup 9.1
EaseUS Todo Backup 9.1 is backup software designed to help users or every individual, even businesses, protect their precious files against data loss. Due to accidental deletion, computer system crashes, human factor (carelessness), Operating System corruption and etc.
Aside from back-up feature, EaseUS Todo Backup can also wipe your confidential DATA out, beyond recovery. To protect your privacy or any sensitive information such as; financial records, private images, bank accounts, personal information and other things that can be used against you and your business.
It also provides a PreOS feature using Linux environment. If enabled, every time you boot your computer, you will see a selection between your OS and EaseUS Todo Backup Linux. This is helpful, if your Operating System becomes corrupted and unbootable. We will discuss more on this later.
Installation
The installation process is fast and easy. It automatically detects your safe partition for back-up storage. All EaseUS Todo Backup program files will be installed in drive C: while the back-up destination is on drive D: (by default) — but you can choose your own back-up destination.
Features
Disk Partition Backup – using this feature will allow you, to backup your selected hard drive partition or the whole hard disk.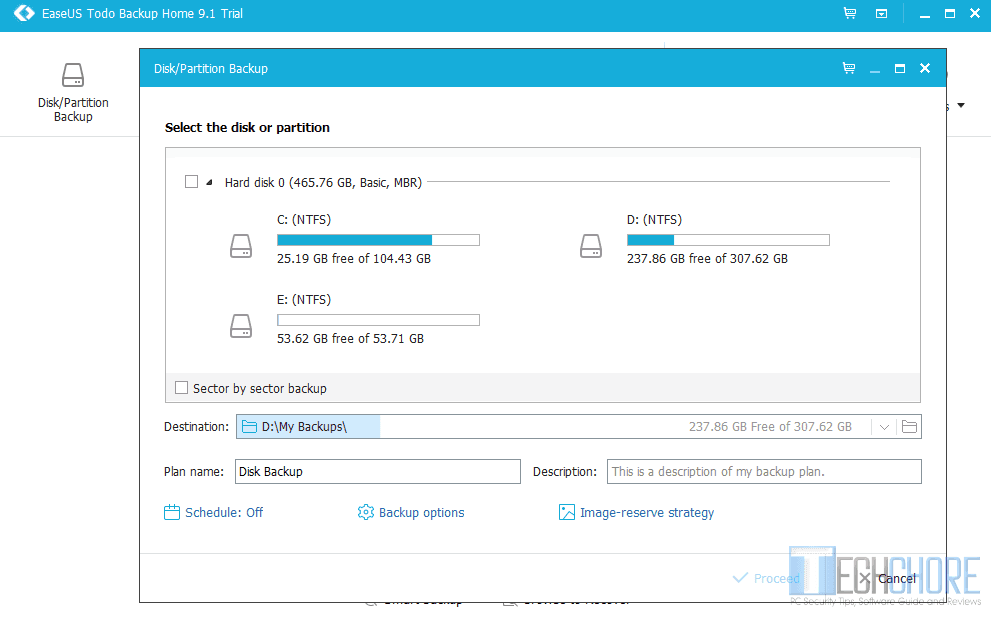 File Backup – if you want to backup certain folder, file or directories, this feature is your best bet. You can backup your desktop, my documents, favorites and files from your network computers.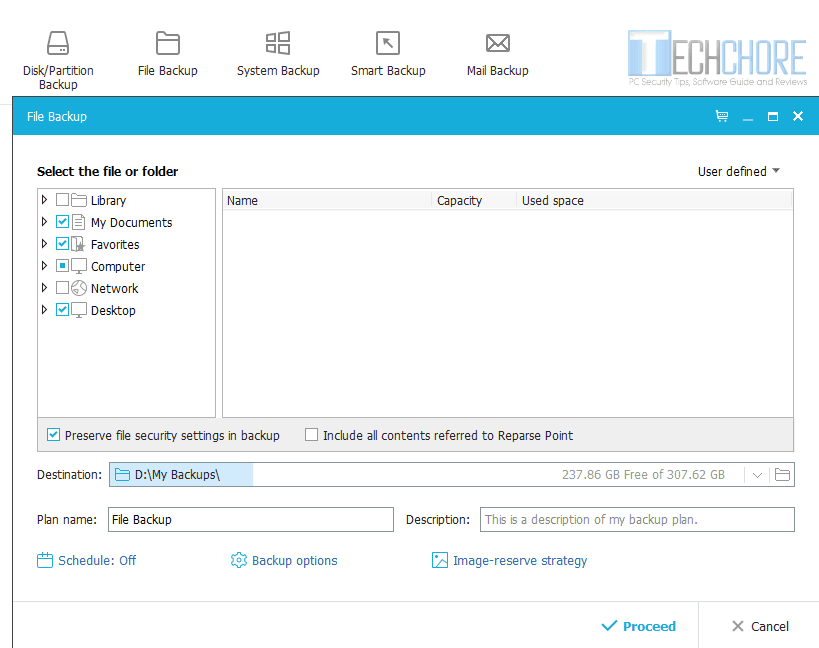 System Backup – this will backup your Operating System, program files, program data and all your System drive partition. You should take this as your priority backup. To protect your system from system crashes and corruption.  Having a System backup will help you restore your system easily, saves you time and effort.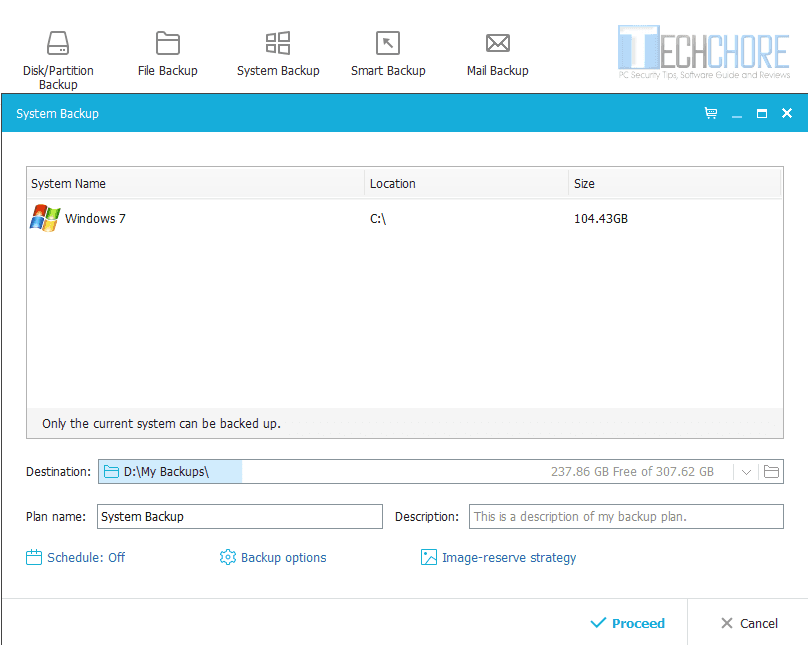 Smart Backup – select a folder, directory or drive partition to backup, after setting Smart Backup, it will automatically save or copy any changes made to that folder, directory or partition to your Backup folder. Thus, you will never miss any new files if ever your hard drive suddenly fails.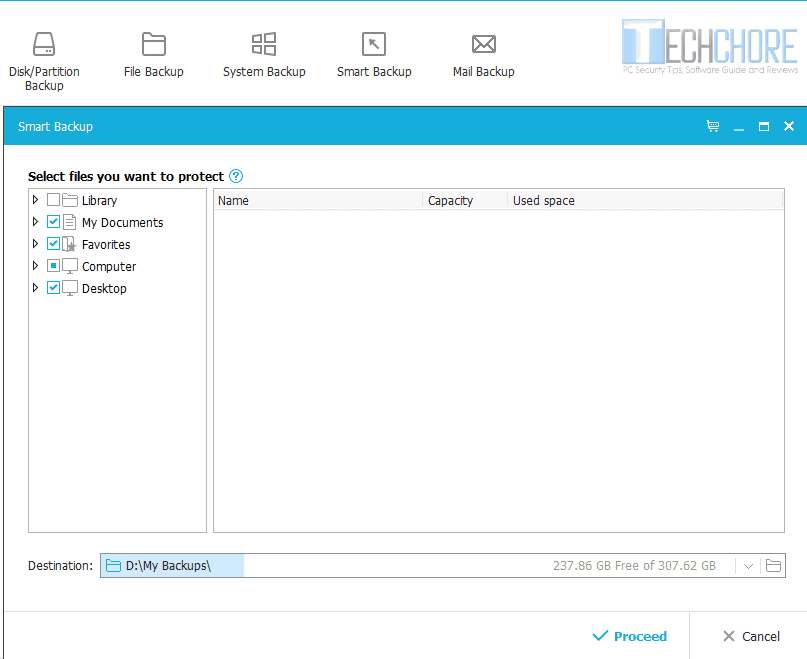 Mail Backup – backup your email, inbox, outbox, drafts, folders, contacts and even your junks emails, if you want to. I tried this with Outlook but you need to set it up first and install the "Outlook Connector".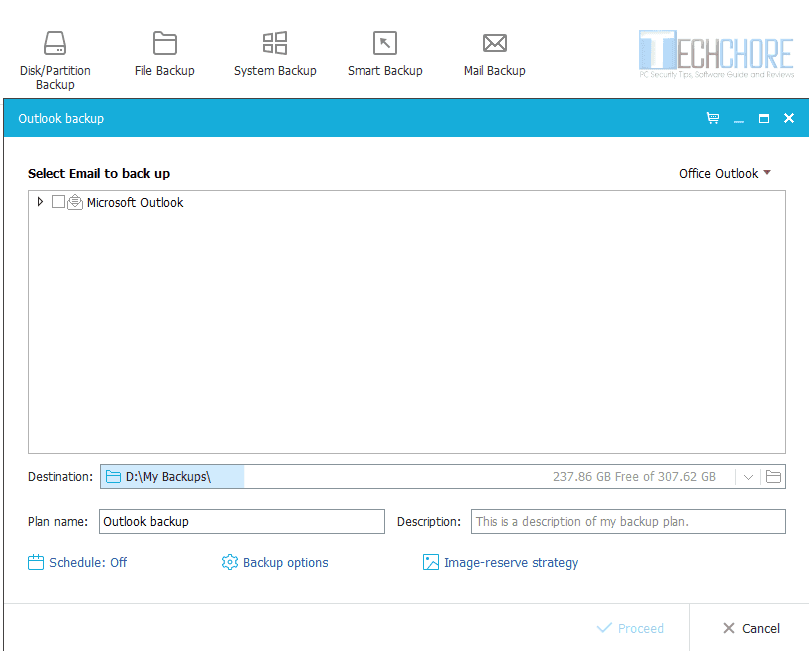 CLONE – an extra useful feature by EaseUS Todo Backup. You can clone your whole hard drive or just a single partition. Sector by sector cloning is recommended.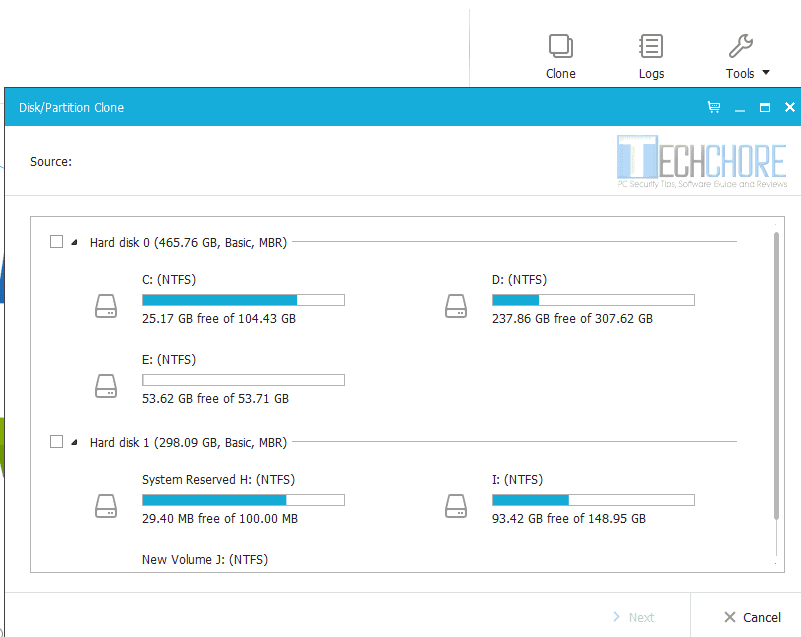 Check Image – once you created your backup image/images, you can use this feature to verify each.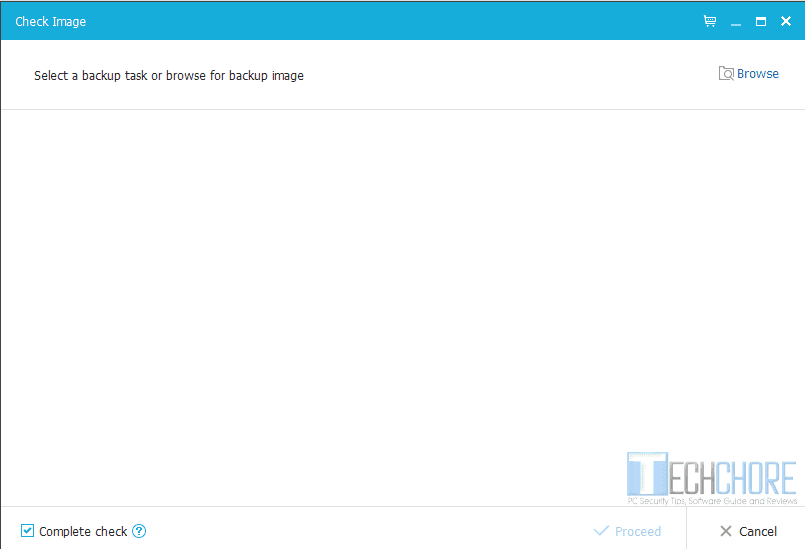 Create Emergency Disk – this is one of the best features that EaseUS Todo Backup 9.1 has. When untoward incident happen and you cannot boot your Windows anymore, having an Emergency Disk will be of great help. By running this feature, you can create and export WinPE ISO which is essential in locating your Windows installation source or Disk image. Thus, you can easily troubleshoot, repair and recover Windows, to boot it again without the need of Windows re-installation.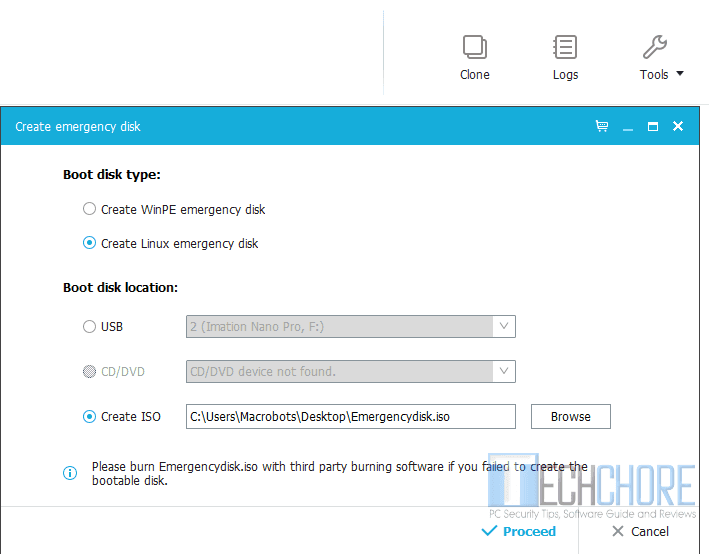 Wipe DATA – as the name suggest, use this to wipe out your confidential data and make it unrecoverable.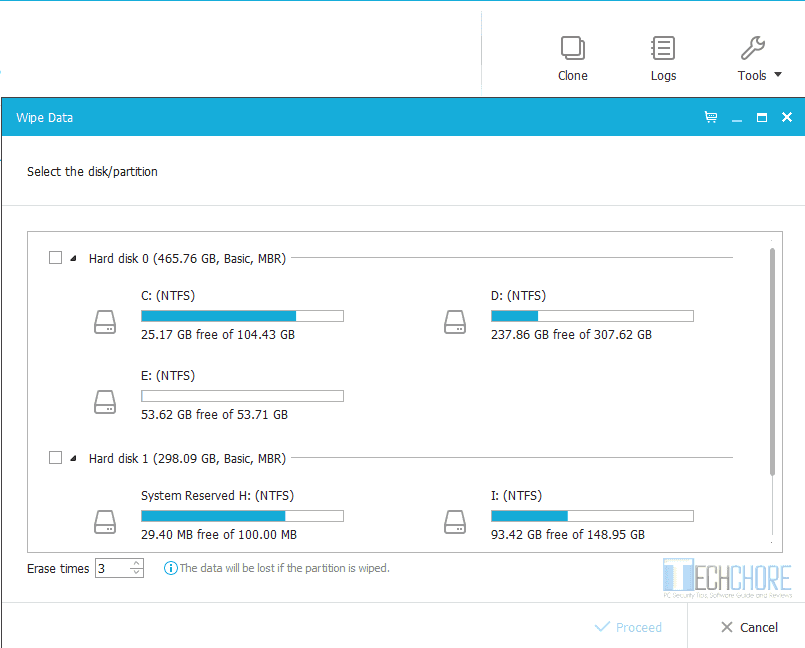 iSCSI Initiator – this is only applicable if you have an external iSCSI-based storage in your network (LAN or WAN).
Enable/Disable PreOS – this works almost the same as "Emergency Disk", minus the extra ISO files (bootable CD/DVD or USB) and efforts.  In the event that your computer won't boot anymore, you can boot using the PreOS by selecting the "EaseUS Todo Backup Linux" in the PreOS selection. From there you can attempt to recover and repair your Operating System.
You can check your hard drive partitions from any errors. Fix your MBR or use a Shell command. You can also recover your Windows system and be able to boot it again by mounting your "System Backup".
You can do almost everything, while in "EaseUS Todo Backup Linux" , such as Data backup, wipe data and more.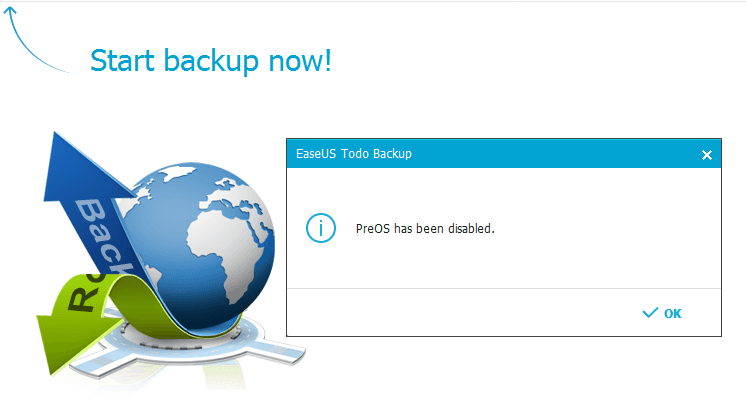 Mount/Unmount – this is what you needed to mount your backup images and start the recovery.
Verdict
EaseUS Todo Backup 9.1 is one of the best backup software I tried. It works seamless even with new Windows Operating Systems, Windows 8.1 and Windows 10. Because of that, I would say that it can be the best Windows 10 backup and restore software partner.
The System backup and Smart backup are my favorite plus its PreOS function. It can really guard anyone's Data from any data loss accidents, if wisely used.
For new user, I would suggest to run the System backup immediately, then configure, select the important directory and apply the Smart Backup. Run also the Emergency Disk for later use and don't forget to turn on the PreOS function.
I hope that on later version the PreOS will enable the copy and paste function or the manual Data transfer. Have you tried EaseUS Todo Backup 9.1? Share us your experience.
EaseUS Todo Backup 9.1
Features

Compatibility

Backup capability

CPU & Memory Usage