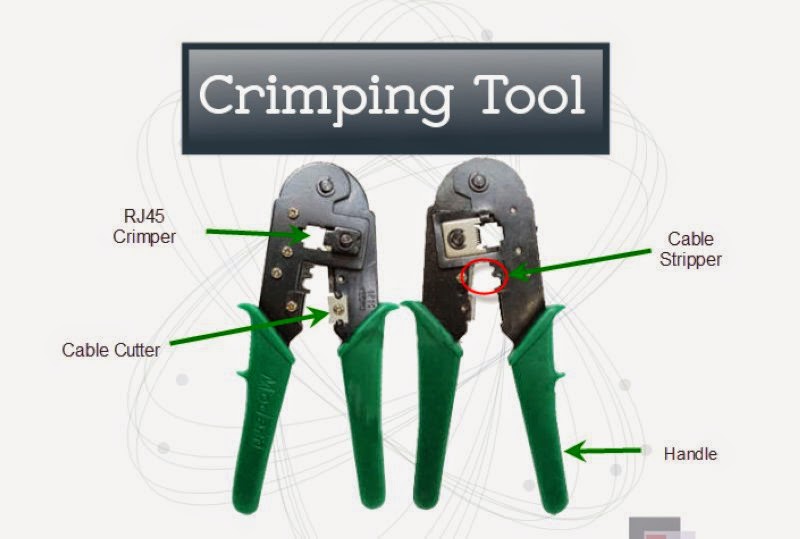 How to crimp RJ45
Crimp RJ45 is one of the basic things you should know if you want to learn computer networking. It's simply because, no cable connection there will be no network, though wireless networking is available, yet it is not stable as wired and the range is limited.
In this article, I will be sharing:
The basic crimping tools.
How to crimp Cat5e to RJ45.
The difference between straight-through and crossover crimping.
 So, let's get started….
Basic Tools in Crimping
Crimping tool – used to crimp RJ45 connector at the both ends of the cable.
Cat5/Cat5e – the commonly used cable for computer networking.
RJ45 (Registered Jack – 45) – is a connector that looks like RJ11. But slightly bigger and are mainly used for computer networking.
LAN (Local Area Network) Cable Tester- a testing tool used to test the accuracy of crimped RJ45 connector.
Crimping Tool Parts and Usage
RJ45 Crimper
Cable Cutter
Cable Stripper
Handle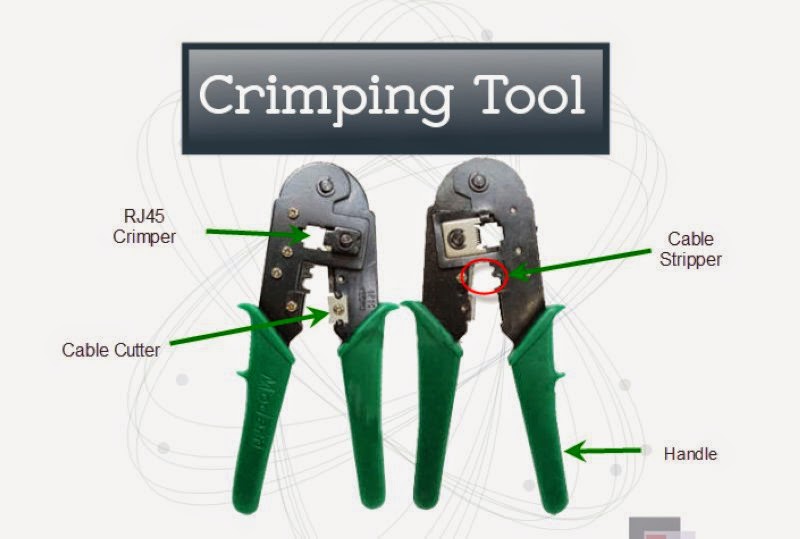 Crimping Color Coding
Why should you learn these crimping color coding?
It will dictate the kind of connection that you need and the devices you want to connect. So, study it carefully. To make it easier for you, just focus on the four colors, the orange, orange stripe, green and the green stripe.
Because these colors are interchangeable and once interchange it will make a difference. As what you have noticed in the image above, switching  orange and stripe-orange to the position of green and stripe-green turns T-568A into T-568B. How about the remaining colors? Since it is fixed in its positions, I believe you won't find it hard to familiarize.
How to crimp Cat5e/Cat5  twisted wires into RJ45?
Strip the UTP (Cat5, Cat5e , Cat6, Cat6A) cable using your crimping tool stripper, or you can use a separate cable stripper.
Untwist the twisted wires.
Set the wire according to the color-coding above and cut it with your cutter. The wire must be half-inch long to fit inside RJ45.
      4. Insert the  wires into the RJ45.
      5. Now, insert the RJ45 connector into the 8-pin crimper of your crimping tool.
      6. Finally, crimp the RJ45.
What is the difference between T-568A and T-568B?
Congratulations! You just finished crimping your RJ45. Now, you may wonder about the color coding. The T-568A and T-568B are having different color coding. What is the purpose? Let me put it this way, T-568A + T-568A = Straight-through and T-568B + T-568B = Straight-through but T-568A + T-568B = Crossover. Take a look at the images below.
How to test your crimped RJ45 using the LAN Cable Tester?
To be sure that your cable and crimped RJ45 is working properly and to avoid future problems, you need to test it using your LAN Cable Tester. Please see the image below for your reference.
What devices that straight-through and crossover connect?
Straight-through is normally used for connecting different network devices such as:
Router to hub and vice-versa
Hub to computer
Computer to switch
 On the other hand Crossover cable is used to connect similar devices, the likes of:
Router to router
Hub to hub
Switch to switch
Computer to Computer
Router to computer (Router to computer uses crossover cable because they both have an IP address. The only exception as far as I know)
   Done…I believe that you are now equipped with knowledge about crimping your own network cable. All you have to do now is to practice and familiarize everything mentioned in this post. If you have your own discovery that might help ease crimping network cable, feel free to comment below.