Bitdefender Total Security
Features

Effectivity

User Interface

Compatibility

CPU Usage
Pros:
Rich in Features and password protected.
Removes, prevents and blocks common viruses.
Bitdefender Safepay secures online transactions.
Bitdefender Wallet improves productivity.
Cons:
Real-time protection disabled error cannot be fixed via user interface.
Sometimes caused the error "your connection is not private" in your browsers.
Bitdefender Total Security 2015 Latest Update
Bitdefender Total Security 2015 Features
Bitdefender Total Security 2015 is more than just being an anti-malware. It's an ultimate antivirus software. Bitdefender Total Security 2015 is jam-packed with all Bitdefender Internet Security features such as:
Bitdefender One-click Security.
Bitdefender Total Security Autopilot.
Bitdefender Total Security Photon.

Auto detect

your PC activity and prevents other software from running, thus gives you optimal speed.
PC Startup Optimizer.
Quick Scanner.
Online Banking and shopping security.
Bitdefender Total Security Wallet that securely stores your passwords, credentials and personal information for easy retrieval, when needed.
Bitdefender Total Security Report.
Privacy and Browsing safety.
Incoming and outgoing firewalls.
Parental control.
Anti-spam
Plus!
Bitdefender Total Security Safe-box.
Bitdefender Total Security Anti-Theft.
Bitdefender Total Security File Encryption.
Safe-box
Bitdefender learned that backing up their user's precious files is important, thus they provided a 2 gigabyte online storage or safe-box for their Total Security users. It's not really a big online space but it's enough to keep your important digital documents safe.
All you have to do is to create a folder in your online safe-box, upload your files and you are ready to go. What if you want to sync your documents in your PC to your Bitdefender safe-box, is it possible?
Auto-syncing is never been an issue, with a simple click from your Bitdefender Total Security 2015 you can sync your files without any problem.
Once you installed Bitdefender Total Security  2015 Anti-Theft in your selected device be it computer or mobile phones, it will start tracking your device whereabouts.
It's a great help when you forget your device somewhere else or in worst scenario, if it's stolen. But the only problem, sometimes the tracking location is not accurate in other places.
So, if worst comes to worst, still Bitdefender Anti-Theft can help you. There were times that, it is unable to bring back your device.
However, with the help of internet connection, still Bitdefender Anti-Theft gives you the power to lock your device and wipe your device's confidential data, protecting your privacy and important information. Even if you are miles away from your device.
Bitdefender File Vault works like a Cash-Vault. Unlike other encryption services, that converts your data into unreadable text to protect your files, Bitdefender Total Security 2015 File Vault—stores your files into a vault. To access the data, you need to type the given password, no decryption of data is required.
How Effective is Bitdefender Total Security
AV-Comparatives gives Bitdefender Total Security 2015 a 99.4% in their latest "Real-World Protection Test" dated from August to November 2014. It is also perfect in "False Positives" with 0% and a 0.6% of compromised or undetected viruses.
AV-Test graded Bitdefender Total Security 2015 with perfect rating in Protection and Performance. It also got a 5.5 out of 6 rating for its Usability.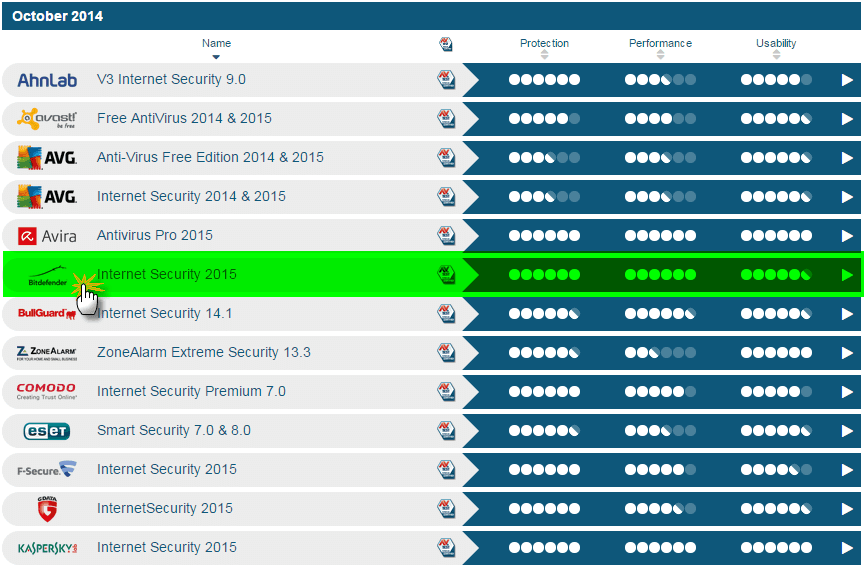 Techchore On-Hand Testing Result
When it comes to Antivirus, I am not really fond of how rich its features are, rather I am very much concern on its Effectivity, Compatibility with other security software (because based on my experience, there is no perfect antivirus, each has its own loopholes. Therefore, it is important that they can compliment each other)—and CPU Usage.

If you noticed my review at the beginning of this post, I rated Bitdefender Total Security 4.8/5 both in compatibility and CPU usage. It is because I never encountered any issue on compatibility, it works well with Malwarebytes, SmadAV Antivirus and USB Disk Security .
The CPU Usage is quite impressive, it only uses 1% of my CPU resources.
However, when it comes to effectivity it's just an average antivirus. Bitdefender Total Security failed to detect some new malware but it is very effective on stopping keyloggers and common viruses.
Conclusion
Bitdefender Total Security 2015 is more on anti-phishing, anti-spam, parental control and online transaction security. It aims to protect your family, personal information and keeps your financial information confidential.
Bitdefender Total Security 2015 lacks the antivirus robustness but because of its compatibility friendliness with other anti-malware this weakness can easily be address.
What do you think about Bitdefender Total Security? Is it worth trying and buying? Share us your experience about Bitdefender Total Security or rate it according to its effectivity.