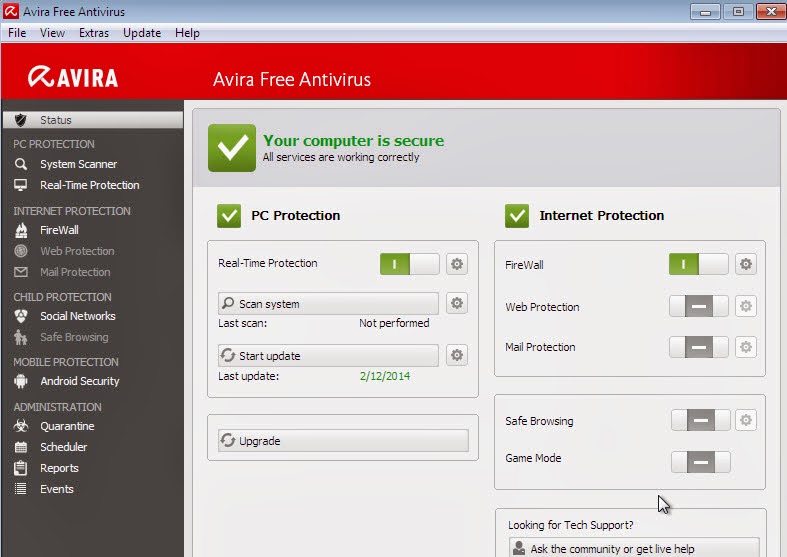 Avira Free Antivirus 14.0.2.286
Avira  the Solid Antivirus. When we talk about Detection Rate, Avira is the number one as documented by AV Comparatives. Personally, I love to use this for none gaming computers, in fact, this is my top choice for my home clients and my second choice is Avast Antivirus.
Avira Features
Avira PC Protection
Avira Antivirus scans your Local drives, Hard drives, Removable drives, Windows System Security,  My Documents, Active Processes, Rootkits and Active Malwares. It also gives you more options for scanning your computer, there is an Avira quick system scan, complete system scan and manually selected scan.
Avira Real Time Protection
In this section Avira provides all the settings of your PC protection in real time. It is where you can configure how your Avira Antivirus scans things, you can set it to "All Files", "Smart Extensions" and "File Extension list".
Avira System Scanner
By default, Avira's System Scanner uses the Smart Extensions that scans boot sectors of selected drives, master boot sectors, registry and it ignores offline files. However, you can select more options as you need it.
Avira Internet Protection
This is the replacement of Avira's firewall protection, it is now using the windows firewall system.
Avira Social Network Protection
Most of us can't live without being socially hook online, especially the children and teens. That's why you need to learn their Social Network Activity to keep them protected. In this case Avira is perfectly suited as it works  behind the scene. This is another good idea by Avira since you don't look bad or so strict with your children.
Avira Antivirus System Requirements
Avira requires at least 1GHz processor, 150 MB Hard drive space for installation. You need to have a 512 MB of RAM, if you are using Windows XP but 1GiG of RAM is required if your operating system is windows 7 and up. Avira supports among Windows XP, Windows 7 and Windows 8 both 32 bit or 64 bit.
Avira's Compatibility with other Anti-malware
In my experience it is having conflicts with Malwarebytes Pro.
Avira Antivirus Rates according to AV Comparatives
Avira shows its super power "Detection Rate" as AV Comparatives put it on top in terms of detection rate with 99.7%.
 Avira also gets 99.4% Protection Rate.
Avira Installation
Avira's default installer is via internet that's why, you need to have an Administrator's right, internet connection and a browser in installing Avira Antivirus. However, I provided an Avira Offline Installer.

Conclusion
Avira Antivirus is good enough for home users. The detection and protection rate are great. Plus, it comes with Avira Search Tool for web advisory and browser tracker blocker that made it even better. The only downside is its incompatibility with other anti-malware and the 20 false alarms, which I considered a little bit high. My other concern is it blocks legitimate .exe files and games though I solved it by simply adding those trusted.exe files and games to Avira Scan exceptions. Have you tried Avira Free Antivirus? Share us your experience.