Avast Pro Antivirus 2016
Effectiveness Against Virus

Malware blocking

Phishing Protection

Keylogger detection

System Resources
Comments Rating
( reviews)
Pros:
Detects 10 out of 12 viruses.
Blocks 8 out of 10 malware.
Compatible with other security software.
Light on your Computer system resources.
Protects your router with its Secure DNS feature.
Constantly checking your networks from any threats.
Cons:
Failed to detect Phishing sites.
It wasn't able to detect keylogger.
Avast Pro Antivirus 2016
Avast Pro Antivirus 2016 (Nitro Update) is one of the best antivirus in terms of effectiveness against viruses and malware. It's also rich in features, in fact, it consist of 6 scan options;
Download Avast Pro Antivirus 2016: here
Smart scan – scan everything all at once. It's a systematic scanning that doesn't affect your computing experience.
Scan for viruses – checks your PC from anything nasty. A highly targeted scanning.
Scan for browser add-ons – it will help you get rid of unnecessary add-ons or extensions.
Scans for outdated software – helps you keep your software updated.
Scan for Network threats – checks your network from any vulnerabilities.
Scan for performance issue – removes malware and junks files, thus, improves your PC performance.
So, let's take a look on how Avast Pro Antivirus 2016 works against viruses, malware, phishing sites and keylogger.
Avast Pro Antivirus 2016 Against Viruses
Avast Pro Antivirus 2016 (Nitro Update) performs well against viruses. It was able to detect and block 10 viruses out of 12.
Malware Blocking
It's one of the best malware blocker, stopping 8 malware out 10. Well, I am not surprised that Avast Pro Antivirus 2016 did this great against malware. It's because even its free version did a good job.
Phishing Protection
I guess, in this area, Avast Pro Antivirus 2016 needs an improvement. Personally, I never expected that it got a zero detection rate against Phishing sites. Although, I would like to qualify that, it is according to our test. It's not conclusive because we used synthetic materials. It may act differently on actual Phishing attack.
Against Keylogger
This is another area that Avast Pro Antivirus 2016 lacks defensive capability. It was unable to stop the keylogger installation and failed to detect the keylogger on a background.
Avast Pro Antivirus 2016 (Nitro Update) other features
Safe Zone Browser – according to our test Avast Pro Antivirus 2016  failed to detect phishing sites using the standard browser such chrome or Firefox. However, using Safe Zone Browser it was able to detect phishing sites. Aside from that it is bundled with ad blocker, so you can browse freely with no intrusive ads.
Sand Box – not everything we download are safe, even if it comes from trusted sites. It is where Avast Pro Antivirus 2016 Sand box play an important role. If you think that the application you just downloaded is not safe, you can run it inside Sand box. Then, it will give you a warning if the executable file has a malicious software in it.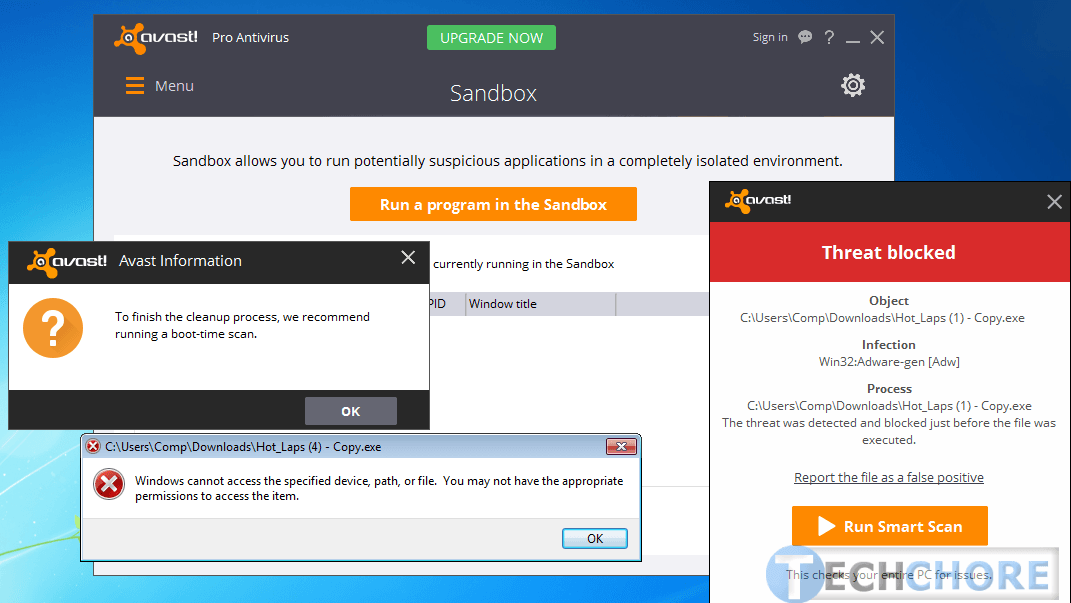 Password secure – this is another way Avast Pro Antivirus 2016 will be able to protect your online activity. It will also help you improve your productivity because signing in to your online accounts will be easier, safer and faster. Thus, outwitting keylogger.
Verdict:
Avast Pro Antivirus 2016 is one of the best Virus and malware blocker. Yes, it failed to detect phishing sites and malware using standard browser. But it provides features such as; Safe Zone browser, Sand box and Password secure to protect your online transactions.
However, as for ordinary user who do not really explore on how to use their antivirus and its extra features. This might be an extra effort which means extra time. So, we just hope that the next release of Avast Pro Antivirus 2016 will secure all standard browser against phishing.
Any personal experience about Avast Pro Antivirus 2016 that you want to share? Please feel free to let us know at the comment box below.