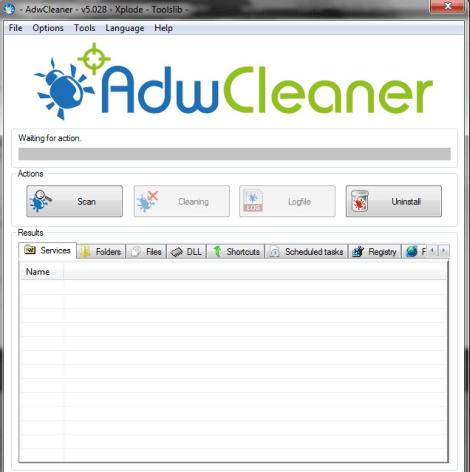 AdwCleaner 5.028
Features

Effectivity

User Interface

Compatibilty

CPU Usage
Pros:
Effective malicious Adware killer.
Light and fast.
No installation needed.
Scans computer and creates log reports.
Cons:
No settings.
Sometimes blockable by malware.
False positives.
What is AdwCleaner?
Download AdwCleaner 5.028

System requirements:
Windows XP, Windows 7 & 8 | 32 – Bit and 64 Bit
AdwCleaner is an Adware removal tool created by Xplode. Its objective is to search and remove browser hijacker such as Adware, (PUP's) Potentially Unwanted Programs, toolbars and other related software.
Why use AdwCleaner? It will help you improve your browsing experience by blocking obstructive advertisement.
Adwcleaner Latest Vesrions
Adwcleaner Version updates and changes
Adwcleaner latest versionsLatest update version 5.021
Adwcleaner Latest update version 5.028
Latest update version 5.027
Latest update version 5.026
Latest update version 5.025
Latest update version 5.024
Latest update version 5.023
Latest update version 5.022
Latest update version 5.021
Adwcleaner v5.020
Updated to v5.019
Adwcleaner v5.018
Updated to v5.017
Adwcleaner v5.016
Updated to v5.015
Adwcleaner v5.014
Updated to v5.013
Adwcleaner v5.012
Updated to v5.011
Updated to v5.010
Updated to v5.009
Updated to v5.008
Updated to v5.007
Updated to v5.006
Updated to v5.005
Updated to v5.004
Updated to v5.003
Updated to v5.002
Updated to v5.001
Updated to v5.000
Updated to v4.207
Updated to v4.206
Updated to v4.205
Updated to v4.204
Version v4.203
Version v4.202
Version v4.201
Version v4.200
Version v4.113
Version v4.112
Version 4.111
Software generic detection updated

AdwCleaner-v5.028

.
Tasks generic detection updated
Generic.DownloadProtect updated
Firefox files generic detection updated
Added "HKCU\..\Policies\..\SearchScopes" to handled keys
Infected shortcuts detection improved
Local database v30-12-2015.1

AdwCleaner-v5.027.

Generic.DownloadProtect updated
Software generic detection updated
Generic.Perion updated
Local database v21-12-2015.2

AdwCleaner-v5.026.

Services generic detection updated
Folders generic detection updated
Generic.DownloadProtect updated
Chrome extensions module updated
Russian translation updated
Automatic DNS flush after cleaning
Fixed bug with Firefox files detection

AdwCleaner-v5.025.

Fixed bug with DownloadProtect generic detection
Local database v13-12-2015.2
Generic.PullUpdate updated
Generic.HomeTab updated
Generic.BetterSurf updated
Tasks module updated
Chrome extensions module updated
Fixed bug with FirewallPolicy module

AdwCleaner-v5.024.

Local database v07-12-2015.3
German translation updated
Proxy module updated
Generic.DownloadProtect updated
Generic.BetterSurf updated
Fixed bug with Crossrider regexp

AdwCleaner-v5.023.

Fixed bug with SearchScopes detection
Local database v30-11-2015.1
DNSApi.dll detection improved
Code optimizations
Tasks generic detection updated
Generic.Tuto4PC updated
Software generic detection updated
Fixed bug with LocalAppData\Installer detection

AdwCleaner-v5.022

.
En hommage à toutes les victimes des attentats de Paris

AdwCleaner-v5.021

.
Local database v22-11-2015.2
Additional detection SearchScope values to SearchScope module
Additional detection "HKLM\..\Installer\UpgradeCodes" to handled keys
Additional detection "HKU\..\ApprovedExtensionsMigration" to handled keys
Generic.PullUpdate updated
Generic.Crossrider updated
Generic.BrowseFox updated
Additional detection of FileExts values
Additional detection of "startup_list" management ( Chrome preferences )

AdwCleaner-v5.020

.
Fixed bug with language selection on Windows XP
Fixed bug with COM error handler
Local database v13-11-2015.1
Updated to AutoIT v3.3.14.2
Generic.Tuto4PC updated
Note
AdwCleaner is just an Adware buster not an Antivirus or malware removal tool.
How AdwCleaner works?
It works like any other malware removal tool, no installation is needed. When executed a UI (User Interface) pops up giving you an option to scan your computer for possible Adware. There are four buttons in the UI namely;
Scan – this is where you should start, by pressing scan Adware search begins.
Cleaning – hitting this button will result to adware clean-up from your files up to the computer registry entries. Then your PC will be restarted, after restart you will presented with log file.
Logfile – all search results and affected file path is recorded here.
Uninstall – if you think cleaning is too much, this is a good option.
After scanning your computer, results will be displayed either in all or selected AdwCleaner tabs. From services, folders, files, shortcuts, scheduled tasks, registry, internet explorer, google chrome and Firefox.
Review the AdwCleaner scan results. If you wish not to remove certain files just unchecked that entries. When you are ready to clean your computer simply click the "cleaning" button. A computer reboot will be necessary.
AdwCleaner software compatibility
So far, I haven't encounter any incompatibility yet. However, if you are using Antivir webguard and Ask toolbar you may encounter issues but it seems that the latest version already fixed this problem.
Please also note that if Delta Search, Babylon and other related toolbars are installed in your computer it may warn you that "AdwCleaner is trying to change your browser settings".
You are advised to allow the change to take effect. It is normal because AdwCleaner will restore your browser default settings before the toolbars was installed. It's one way of making your browsing experience improve.
In your experience, what can you tell about AdwCleaner and its effectivity? Don't forget to leave a message in he comment box below.