When to reset your PLDT Fibr router? Resetting a router is common among advanced users, but only a few PLDT Fibr subscribers knew about this. What are the reasons to reset your Fibr router? How are you going to do it?
Common reasons to reset PLDT Fibr router
You forgot your PLDT Fibr admin password. Sounds familiar? What will you do when you forget your smartphone's pattern lock or password?
Messed something in the router settings? Resetting it to factory default will solve your problem.
Your network got compromised.
Three ways to reset Fibr router
For ONU Fibr router users, we have three options to reset our router. Two (2) soft resets and one (1) hard reset. We can do the soft reset via the Superadmin management interface or in the adminpldt device management. Then the hard reset by pressing the reset button at the back of our PLDT Fibr ONU router. Let's start with superadmin.
Superadmin
To reset our Fibr router in the SuperAdmin Device management, we need to know the superadmin username and password. Please copy your appropriate username and passwords according to your router's model, brand, and software version. Already have your superadmin credentials? If so, let's get started.
Very Important! You need the superadmin password and username before you can proceed to step (1) one below. Please get it from the links provided.
1 In your computer browser, type PLDT Fibr's default IP address the 192.168.1.1/fh. If you encounter privacy issues, please fix it with this guide; How to fix Privacy issues in PLDT Fibr?
2 Now, in the PLDT Fibr router web interface, input your superadmin PLDT Fibr credentials respectively and hit "Enter" or click "Login."
3 Inside   Super Admin Device Management   select the restore all menu which is selected by default. Look for the   "RestoreAll"   button and press it by clicking your mouse over it.
4 Wait for few seconds for it to take effect. Once the countdown is done, it means the reset is fully achieved.
Important Tips: After the successful reset you need to, logout, refresh the browser, type the IP address again 192.168.1.1/fh, and press Enter. You will then be prompted to login, use your router's default password and username. After that you will be asked to personalize your password, that's it.
Device Management under account management
The second method is through   adminpldt device management   . Before we start, I need you to get your adminpldt credentials and enable your Web admin switch from these links; enable web admin switch in PLDT home Fibr or enable RP2631 Web admin switch and privacy issue.
Very Important! You need the adminpldt password and username before you can proceed to step (1) one below. Please get it from the links provided. Finished? Let's proceed.
1 After you enabled web admin switch, log out from the PLDT web interface, re-type   192.168.1.1/fh   and hit   enter  .
2 In your PLDT Fibr Weblogin interface type your   adminpldt password and username   and hit   Enter   .
3 Inside adminpldt user interface, go to   Management   tab,   Device management,  from there click the   Restore   to reset your PLDT Home Fibr router. Wait for a few seconds to complete the reset process. Now read this important tips.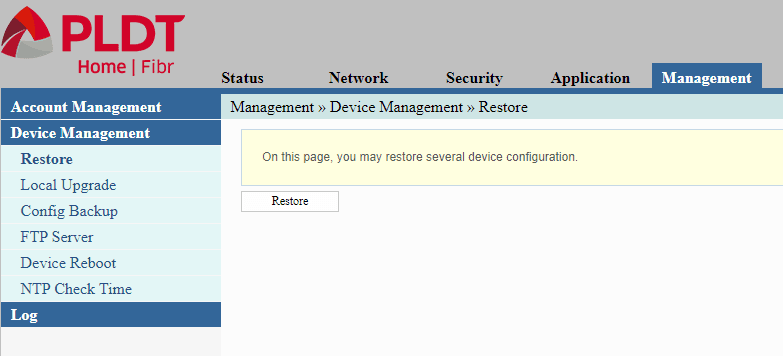 Hard Reset
This guide might be the easiest among the three (3). All you need is you can physically access your router. It doesn't require your router's passwords and usernames. Let's give it a go.

1 At the back of your Fibr router look for the   small hole   with the "   reset   " name under it. It's in extreme right, next to router's power jack.
2 Once you found the reset hole, prepare a thin wire, pins, or whatever you have. As long as it will fit and firm enough to press the reset button. Most importantly, it will not damage your router.
3 Now, using the thin wire, slowly insert it into the reset hole. There is a small button inside, make sure to press it (long-press) for about 20 seconds before pulling your thin wire or wait until the router reboots.
4 Wait for the router to fully ready after the restart. Now, that's it; you just hard reset your PLDT Home Fibr router. What to do next? Read these important tips.
What do you think about this tutorial? Do you find it helpful? Comment your opinion in the comment box below.